I'm writing to share J Street's statements and news updates about the Israeli attorney general's decision to allow illegal settlement outposts (those built without Israeli government approval) in the West Bank to connect to the Israeli power grid, Prime Minister Bennett's response to his coalition crisis, the plight of the Palestinian village of al-Walaja, and more.
You can also find helpful analysis, updates, and a comprehensive FAQ about a return to compliance with the Iran nuclear deal at IranDiplomacyWorks.org.
As always, you can find our Congressional briefing book, background information on the Israeli-Palestinian conflict, recordings of previous briefings and more at J Street's Congressional Resource Page.
Let me know if you have any questions or would like further information.
All the best,
Debra
—
Debra Shushan, PhD
Director of Government Affairs, J Street
mobile: (757) 746-0366 | [email protected] | @DrShushan
This week on j street
STATEMENT

HORRIFIC WAR CRIMES IN UKRAINE UNDERSCORE THE IMPORTANCE OF INTERNATIONAL LAW AND JUSTICE

Read more →
What we're reading
Israel Okays Connecting Illegal West Bank Outposts to Power Grid
Israel's Attorney General's Office has approved connecting illegal West Bank Jewish outposts that were built without Israeli government approval to the electricity grid, in a plan that would also give more weight to diplomatic considerations… The plan gives the government more power in deciding on specific outposts. Unlike similar decision-making processes, this one gives the Foreign Ministry, too, an opportunity to present points of contentions during the consideration stage in regard to repercussions in the international arena.
read more
Conceding coalition management errors, PM vows more focus on politics moving forward
In a series of interviews with Israel's three major TV networks on Monday evening, Prime Minister Naftali Bennett acknowledged mistakes in the handling of his fractious coalition and pledged to focus more on internal political affairs moving forward. He also insisted that his crisis-hit government could soldier on, and ruled out any cooperation with opposition leader Benjamin Netanyahu, whom he censured for his political conduct. The appearances on Channels 12 and 13 and Kan came less than a week after fellow Yamina lawmaker Idit Silman announced her resignation from the coalition, robbing Bennett's government of a majority in the Knesset and bringing the country significantly closer to what would be its fifth election campaign in three years.
read more
In a Village Divided, Palestinians See Their Hold on Territory Eroding
Many of the major events that have shaped this corner of the Middle East have left their mark on Walaja — once a swath of terraced farmland with an ancient olive tree. Today, it serves as a pointed example of how decades of war, diplomatic agreements, Israeli settlement building, laws and regulations have carved up the West Bank and whittled away at territory under Palestinian control. The 3,000 Palestinian residents of Walaja now live partly in the occupied West Bank and partly in Jerusalem, divided into several different zones governed by different laws and regulations. Palestinian leaders and rights groups say that this type of fragmentation undermines the possibility of ever building a Palestinian state on a contiguous piece of land.
read more
Israel Plans to Grant Palestinians 'Tens of Thousands' More Work Permits, Gantz Says
Gantz's remarks are in keeping with the stance that the IDF has presented at deliberations following the recent terrorist attacks. The army proposed liberalizing the conditions on which Palestinians can legally enter Israel in order to reduce the number who attempt to enter illegally through openings in the fence, as well as increasing oversight of those who do come in. The IDF assumes that Palestinians who are gainfully employed and go to work every day are significantly less likely to join terrorist organizations or be motivated to carry out an attack.
read more
Israeli forces kill Palestinian as West Bank raids continue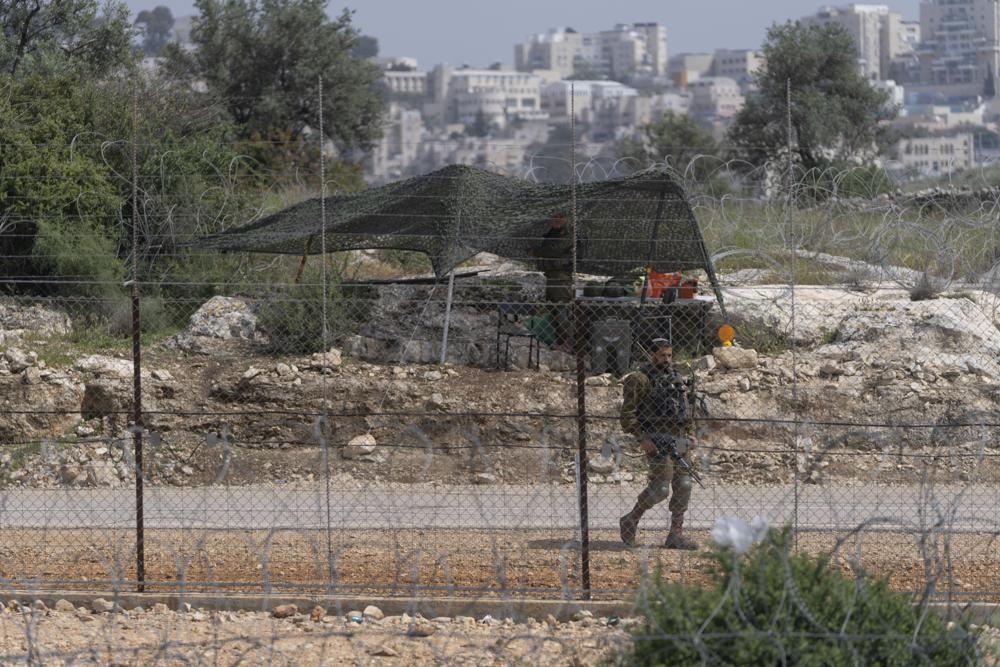 Israeli forces shot and killed a Palestinian man during clashes on Wednesday, the Palestinian Health Ministry said, as Israeli troops continued a days-long operation in the occupied West Bank in response to a spate of deadly attacks. The death is the latest in a wave of Israeli-Palestinian violence that has erupted as Muslims mark the holy month of Ramadan… Israel has sent troops to comb through Palestinians cities and villages in recent days, looking for suspects or accomplices tied to recent Palestinian attacks on Israelis. Last week, a Palestinian gunman opened fire on a packed Tel Aviv bar, killing three and fleeing the scene, sparking an hours-long manhunt that culminated in his killing by police.
read more
Deja vu permeates as lawmakers ready to debate Iran nuclear deal
That original agreement — known as the Joint Comprehensive Plan of Action, or JCPOA — traded the easing of multinational sanctions on Iran for that country's commitment to roll back its nuclear development activities and comply with strict, verifiable limitations on its nuclear program for 10-25 years. And now that the Biden administration is close to striking a follow-on agreement to the original JCPOA, which President Donald Trump in 2018 withdrew the United States from while reimposing U.S. sanctions, the Iran policy lobbying machinery is cranking back into action around Washington — especially on Capitol Hill.
read more