I'm writing to share some significant news updates. Tragically, there has been yet another terrorist attack in Israel – this time at a bar in Tel Aviv, with two confirmed killed as I write. In addition, a right-wing lawmaker's decision to leave Israel's governing coalition has deprived Prime Minister Bennett's government of its previous 61-59 Knesset majority. You'll find details on these developments and much more in this news digest.

Also below, read J Street's statement about the horrific war crimes in Ukraine, which underscore the critical importance of international law and the institutions to enforce justice against those who violate it.

On IranDiplomacyWorks.org, your source for information and analysis on diplomacy toward a return to compliance with the Iran nuclear deal, I particularly recommend this freshly updated FAQ.

As always, you can find our Congressional briefing book, background information on the Israeli-Palestinian conflict, recordings of previous briefings and more at J Street's Congressional Resource Page.

Let me know if you have any questions or would like further information.

All the best,
Debra

—
Debra Shushan, PhD
Director of Government Affairs, J Street
mobile: (757) 746-0366 | [email protected] | @DrShushan
This week on j street
STATEMENT

HORRIFIC WAR CRIMES IN UKRAINE UNDERSCORE THE IMPORTANCE OF INTERNATIONAL LAW AND JUSTICE

Read more →
BLOG

THE ISRAELI GOVERNMENT'S EFFORT TO TAKE OVER EAST JERUSALEM

Read more →
What we're reading
Two killed as terrorist opens fire on Tel Aviv bar; gunman still on loose
Two people were killed and several were wounded as a gunman opened fire on a bar in central Tel Aviv Thursday evening in an apparent terror attack, the latest eruption of violence to strike Israel in recent weeks. The shooting took place on Dizengoff Street, turning an area normally crowded with people out for Thursday night at bars, restaurants and cafes lining the popular thoroughfare into a scene of chaos and panic. As the street filled with ambulances and rescuers, police carried out searches for a gunman thought to have escaped, going door to door and telling people to stay inside and lock their doors.
read more
Israel's Government in Crisis After Senior Lawmaker Quits Coalition
Israel's fragile government was thrown into crisis on Wednesday after a senior lawmaker quit the coalition, leaving it without a majority in Parliament and auguring a return to the political instability that has hobbled the country in recent years… Ms. Silman's resignation means the government can count only on the support of 60 members in the 120-seat Parliament, losing the razor-thin, one-seat majority it has had since June. Her departure from the coalition does not mean the government will immediately collapse or, in the absence of further defections, give a parliamentary majority to the opposition.
read more
At rally of supporters, Netanyahu calls on right to unite and 'return home' to Likud
Opposition leader Benjamin Netanyahu attended a right-wing rally held in Jerusalem on Wednesday evening, calling on right-wing lawmakers in the coalition "to return home," amid a coalition crisis that has revived his hopes of toppling the government and returning to power. The rally, attended by thousands of right-wing activists, was originally meant to protest the rampant violence that has recently swept the country, with a wave of deadly terror attacks not seen in years. But dramatic events unfolding since Wednesday morning shifted the focus of the event toward internal politics, with Netanyahu calling on Prime Minister Naftali Bennett to resign and urging unity among right-wing lawmakers.
read more
U.S. floated White House meeting of Israelis and Palestinians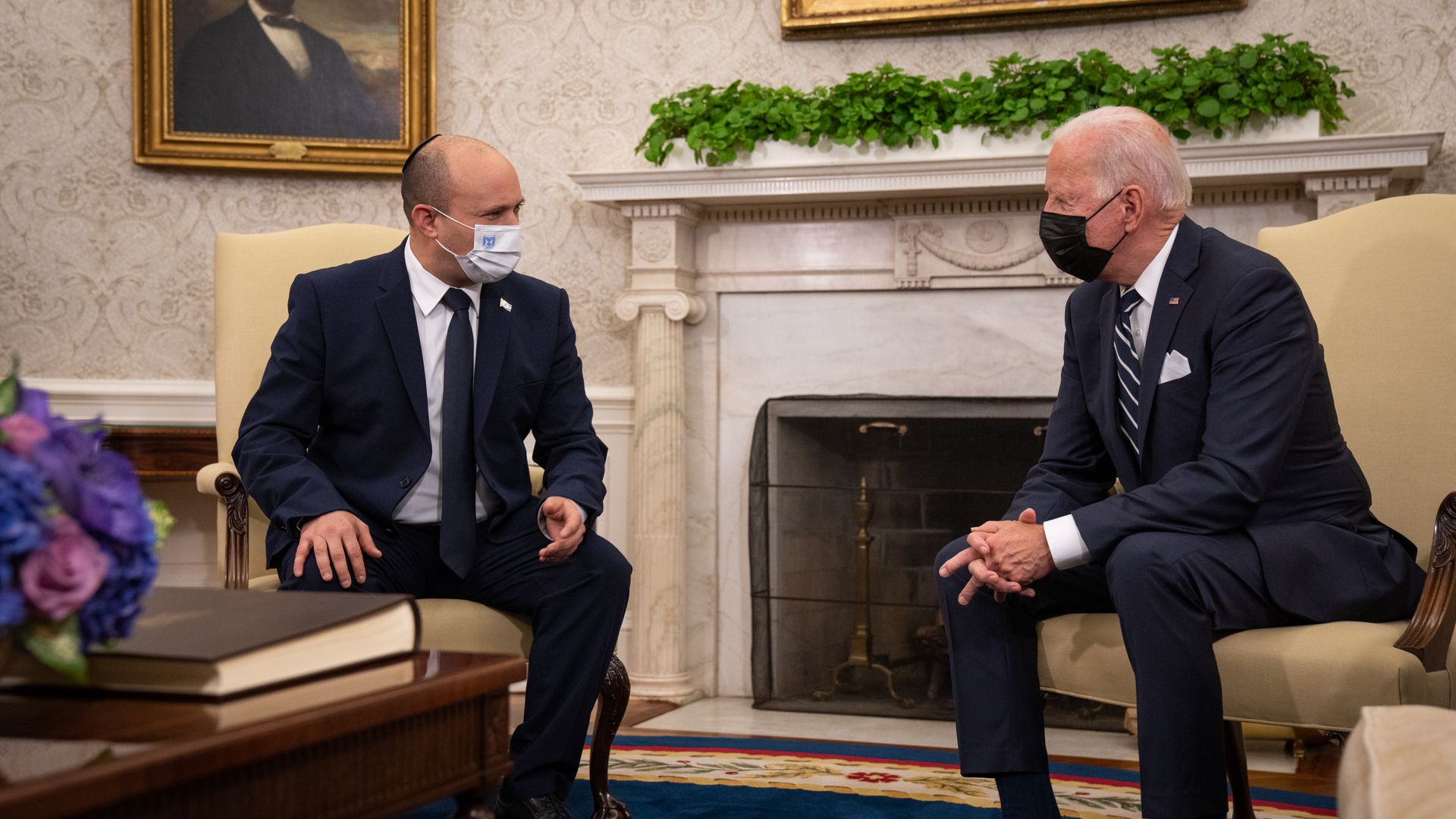 The Biden administration has been floating the idea of a White House meeting between senior Israeli and Palestinian officials, according to five current and former U.S and Israeli officials. U.S. officials have raised that possibility with Israeli officials several times over the last four months, and also discussed it with the Palestinians, Egyptians and Jordanians. While the Israeli side didn't reject it outright they presented several reservations.
read more
6 arrested during 4th night of clashes between police and Palestinians in Jerusalem
Police said six Palestinians were detained during clashes at the Damascus Gate entrance to Jerusalem's Old City on Tuesday, as Palestinians gathered to celebrate Ramadan. The suspects hurled stones and other items and launched fireworks at officers, police said. It was the fourth night in a row of scuffles at Damascus Gate, an entrance to the Old City's Muslim Quarter, a frequent point of friction and the site of many past terror attacks… The Defense Ministry said Tuesday that some restrictions on West Bank Palestinian movement will be loosened for prayers for Ramadan, after the recent attacks raised the prospect of the gesture being canceled.
read more
Mapping Out the Rapid Judaization of East Jerusalem
The days when construction in East Jerusalem opened news broadcasts and rocked U.S.-Israeli relations may have passed, but on the ground Jerusalem keeps on morphing: Jewish neighborhoods are being built or planned beyond the Green Line in places like Har Homa, Givat Hamatos, Atarot and Ramat Shlomo. And settler groups are continuing with their efforts to Judaize the neighborhoods of Silwan, Sheikh Jarrah, Jabal Mukkaber and Ras al-Amud. These and other Palestinian districts still face planning policies that work against them.
read more
ISRAEL CHARGES PALESTINIAN JOURNALISTS WITH INCITEMENT — FOR DOING THEIR JOBS
"All the questions were about my journalism," Nasser said. "They put images from my video reports on the table, including a funeral of a dead Palestinian, people gathering for a protest, a square honoring a shaheed [martyr], a march with Hamas flags. The interrogator told me I cannot photograph these things, because they are incitement. I told him that I am a journalist and this is my job — to show images of things that are happening, and that Israeli outlets do the same thing. He yelled at me to stop." … As of March 2022, there were 10 Palestinian journalists in Israeli prisons on charges relating to publishing materials online — either as private individuals or through their professional work — that were deemed "incitement," according to Saleh al-Masri, who heads the Journalist Support Committee in Palestine.
read more
Iran nuclear chief says Tehran has given IAEA documents on outstanding issues
Iran has handed over documents related to outstanding issues to the U.N. nuclear watchdog, Iranian nuclear chief Mohammad Eslami said on Wednesday, as Tehran demands closure of the agency's investigation into uranium particles found at three undeclared sites. Iran and the International Atomic Energy Agency (IAEA) last month agreed a three-month plan to try to resolve a long-stalled issue over uranium particles found at old but undeclared sites in the country. Resolving the issue would remove an obstacle to the revival of a 2015 nuclear deal between Iran and world powers.
read more
Explainer | What's the deal with the Iran nuclear deal?
A nuclear deal with Iran was Barack Obama's biggest diplomatic achievement, and its annulment was arguably Donald Trump's biggest foreign policy failure. Nearly 15 months into Joe Biden's presidency, the US, Iran, and other world powers are close to resurrecting the 2015 deal that ensured Iran's civilian nuclear program could not develop weapons-grade uranium. But the hurdles in negotiations over the last 12 months — not to mention two recent hold-ups that could derail the whole endeavor — show just how big of a diplomatic feat the original deal was, and how difficult it appears to get back to it.
read more