I'm writing to share J Street's statements and news updates.
Thank you to everyone who took time to join us yesterday for a Hill-exclusive briefing on the new Netanyahu government. If you weren't able to join us, please email me or any of my J Street colleagues and we'll be happy to share the recording with you.
Also, please be sure to consult our J Street Policy Center's new resource, a dossier on Israel's new ultra-right wing government. It contains information on key figures in the coalition, pledges made by the government, actions it has already taken, and reactions from key parties. Well keep it updated as we add to it at this link.
As always, you can find our Congressional briefing book, background information on the Israeli-Palestinian conflict, recordings of previous briefings and more at J Street's Congressional Resource Page.
If you have any questions, please don't hesitate to get in touch.
All the best,
Debra
—
Debra Shushan, PhD
Director of Policy, J Street
mobile: (757) 746-0366 | [email protected] | @DrShushan
This week on j street
STATEMENT

PRO-ISRAEL AMERICANS, US GOVERNMENT SHOULD STAND AGAINST NETANYAHU GOVERNMENT'S ANTI-DEMOCRATIC PLAN TO UNDERCUT ISRAEL'S INDEPENDENT JUDICIARY

Read more →
STATEMENT

J STREET POLICY CENTER: BIDEN ADMINISTRATION SHOULD ACT TO PREVENT MASS EVICTION FROM MASAFER YATTA

Read more →
What we're reading
Israelis stage giant protest against Netanyahu court reform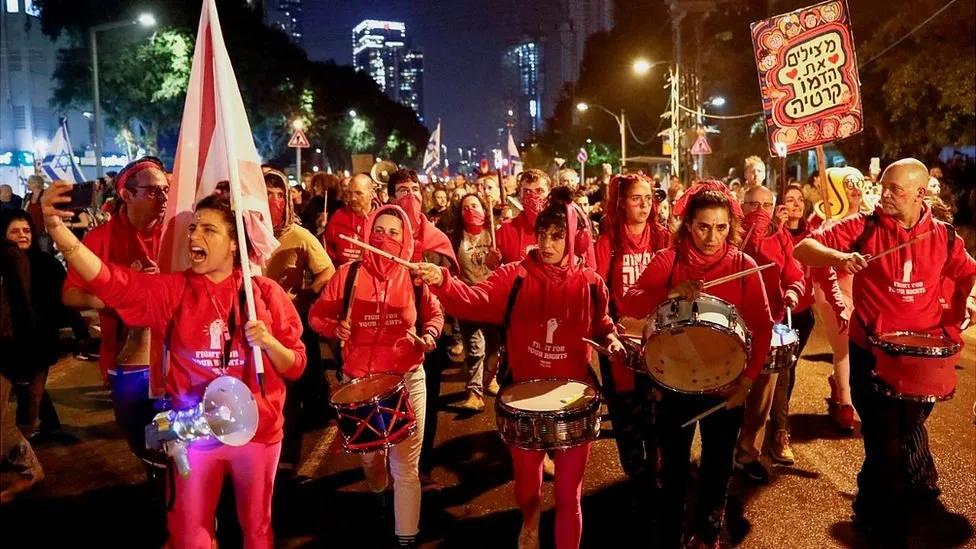 An estimated 110,000 people have packed the streets of Tel Aviv, in one of Israel's biggest anti-government protests in the past decade… "This is a dangerous government," said Yaara Ben Geraluf, a teacher from Jaffa, a western suburb on the coast. "This government will not be any good for women, for LGBTQ, for the impoverished people… and of course for Palestinians," she told the BBC…. It is the second week running that mass protests have taken place in four different cities. Protesters accuse Mr Netanyahu of threatening democratic rule, amid an unprecedented clash between the new government and Israel's judges… Critics also say Mr Netanyahu, who is on trial for corruption, is trying to rein in the judges in an ultimate attempt to avoid going to jail himself. Many protesters also bitterly oppose positions from a coalition which includes overtly racist, homophobic and anti-Palestinian parties from the far-right. When it took office, the government declared "exclusive" Jewish rights to "all areas" of the land, including the occupied Palestinian territories.
read more
Nations express 'deep concern' at Israeli punitive measures
More than 90 countries have expressed "deep concern" at Israel's recent punitive measures against the Palestinians, steps taken in response to a U.N. request for the International Court of Justice to render an opinion on the Israeli occupation. The 193-member General Assembly voted 87-26 with 53 abstentions on Dec. 30 in favor of the resolution to ask the International Court of Justice to intervene in the Israeli-Palestinian conflict. The request was promoted by the Palestinians and opposed vehemently by Israel… "What is amazing about that statement," he [Palestinian U.N. Ambassador Riyad Mansour] said, is that it was signed by some countries that abstained or voted against the resolution referring the question to the court. "But to punish people for going to the General Assembly in an adoption of a resolution is something else," Mansour said. "That's why they stood with us and opposed this policy of the Israeli government, and they are demanding a reversal of this decision."
read more
Sullivan raises Israeli judicial overhaul plan with Netanyahu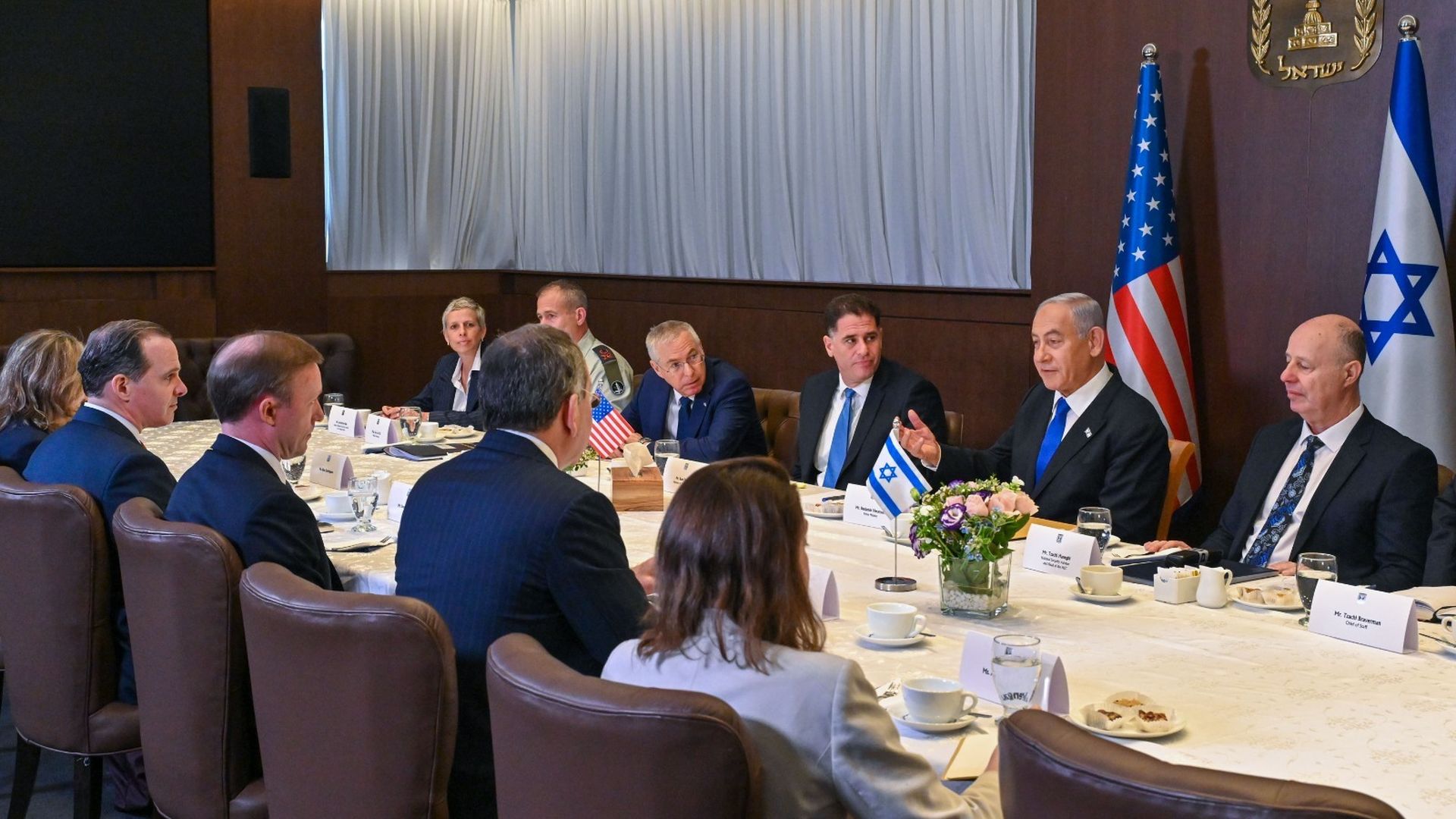 It is the first time that a senior Biden administration official has discussed the issue directly with Netanyahu… The plan, announced less than two weeks after Netanyahu's right-wing government took office, has deepened political divisions and stoked fear among some that the heightened tensions could tear Israeli society apart. The White House debated in recent weeks how much it wants to weigh in on the sensitive and politically charged Israeli domestic issue that many in the U.S. government fear could impact Israel's democracy and, as a result, the U.S.' relationship with Israel. In his private meeting with Netanyahu, the U.S. officials said Sullivan also raised the Biden administration's concerns about the expansion of Israeli settlements in the occupied West Bank.
read more
Netanyahu Fires a Top Minister to Comply With a Supreme Court Ruling
Prime Minister Benjamin Netanyahu of Israel on Sunday dismissed a senior minister recently convicted of tax fraud to comply with a Supreme Court ruling that disqualified the minister from serving, shaking the right-wing government just weeks after it came to power. By complying with the court's ruling to remove the minister, Aryeh Deri, Mr. Netanyahu avoided an instant, head-on clash with the judiciary at a time when the country is already locked in a fierce debate over government plans for a judicial overhaul… "I am forced, with a heavy heart, great sorrow and a very difficult feeling, to remove you from your position as a minister in the government," Mr. Netanyahu wrote in a letter to Mr. Deri that the prime minister read out in his weekly cabinet meeting, with Mr. Deri in attendance… Mr. Netanyahu denounced the Supreme Court order as "a regrettable decision that ignores the will of the people."… But Mr. Netanyahu, himself on trial for corruption, faces the predicament of how to compensate Mr. Deri, the leader of Shas, an ultra-Orthodox Sephardic party, and a close political ally whose support is key to the stability and survival of the coalition government.
read more
Netanyahu Gov't Pledges to Advance Transfer of Swaths of West Bank Lands to Pre-1948 Jewish Owners
A clause in the coalition agreement between Likud and Religious Zionism says the government will instruct the head of the army's Central Command to enable assets currently held by the Civil Administration to be transferred to their pre-1948 Jewish owners. This move is expected to facilitate settlement expansion and allow Israel to gain control over Palestinian-leased buildings… Most of the land is in Gush Etzion (Bethlehem area) and north of Jerusalem, but other plots are in the area of Nebi Samuel, Batir and Beit Furik. Several parcels of land are in Area B, which is defined as land under Palestinian civil control and Israeli military control according to the Oslo Accords… Since the 1990s, Israeli government policy has dictated that the properties' legal status would have to be determined by a future peace agreement rather than be returned to Jewish owners.
read more
Saudi Arabia Says a Palestinian State Is Key to Ties With Israel
The Saudi Arabian foreign minister said on Thursday that the creation of a Palestinian state would have to precede any establishment of formal diplomatic relations between the Arab world's largest economy and Israel, according to a Bloomberg news report. Prince Faisal bin Farhan explained that "we have said consistently that we believe normalization with Israel is something that is very much in the interest of the region," speaking in an interview with Bloomberg TV in Davos Switzerland. "However, true normalization and true stability will only come through giving the Palestinians hope, through giving the Palestinians dignity." "That requires giving the Palestinians a state, and that's the priority," he said… Since normalizing ties with the United Arab Emirates and Bahrain under the U.S. brokered Abraham Accords, Israeli leaders such as Prime Minister Benjamin Netanyahu have sought to expand on that breakthrough and bring in other Arab countries. Netanyahu had met with U.S. National Security Adviser Jake Sullivan in Jerusalem also on Thursday to discuss, among other things, "the next steps to deepen the Abraham Accords and expand the circle of peace, with an emphasis on a breakthrough with Saudi Arabia," Netanyahu said.
read more
Something Is Brewing in Congress, and It Should Alarm Israel
Rep. Brad Sherman's warnings for Benjamin Netanyahu's far-right coalition in his conversation with Haaretz are the most extensive on-record warnings emerging from Capitol Hill to date. The California lawmaker, however, is not the first one with an unimpeachable record of support for Israel to sound the alarm… His remarks come days after Sen. Jacky Rosen refused to meet with representatives from the coalition's far-right parties during a Congressional delegation. Rosen and Sherman's steps follow the trail blazed by fellow Democrat Sen. Robert Menendez, Israel's crucially important ally that chairs the Senate Foreign Relations Committee, who warned Netanyahu last year about the potential ramifications of his alliance with Itamar Ben-Gvir. The criticism, however, has not been limited to Israel's stalwart friends in the Democratic Party. Sen. Lindsey Graham notably decried Foreign Minister Eli Cohen's remarks on Russia and Ukraine in his initial remarks after the coalition assumed power… If these resolute friends of Israel warn that the coalition's members and policies alike could have an adverse effect on U.S. support for Israel, then Israel should heed the warnings and understand that it may be a matter of when, not if, criticism and pressure from Washington begins to coalesce.
read more