I hope you're doing well! I'm writing to share J Street's statements and important news updates from the region. Ahead of President Biden's upcoming visit to the Middle East, the Israeli government has begun mass evictions of Palestinians living in Masafer Yatta and is considering advancing the E1 settlement project — both despite objections from Members of Congress and administration officials.

Against that backdrop, J Street welcomes a bicameral letter from 20 Senators and 63 Representatives urging the administration to engage urgently with the Israeli government to prevent these evictions in the occupied West Bank. If your boss signed that letter, we greatly appreciate it! I recommend taking less than a minute to watch this video posted on Twitter by Palestinian journalist and lifelong resident of Masafer Yatta, Basel Adra, showing evictions that happened earlier this week.

There's lots more to dig into in this week's Digest as well, including CNN's investigation into Palestinian-American journalist Shireen Abu Akleh's killing and reporting on anti-Palestinian violence during Sunday's government-sanctioned "flag march" marking Jerusalem Day.

As always, you can find our Congressional briefing book, background information on the Israeli-Palestinian conflict, recordings of previous briefings and more at J Street's Congressional Resource Page.

Let me know if you have any questions or would like further information.

All the best,
Debra

—
Debra Shushan, PhD
Director of Policy, J Street
mobile: (757) 746-0366 | [email protected] | @DrShushan
This week on j street
STATEMENT

BICAMERAL CONGRESSIONAL LETTER SHOWS STRONG OPPOSITION TO FORCED DISPLACEMENT OF PALESTINIAN FAMILIES IN MASAFER YATTA

Read more →
STATEMENT

J STREET CALLS FOR INDEPENDENT US INVESTIGATION INTO KILLING OF PALESTINIAN-AMERICAN JOURNALIST SHIREEN ABU AKLEH

Read more →
What we're reading
Ahead of Biden visit, Israel launches biggest eviction of Palestinians in decades
The demolitions have sparked expressions of concern from Washington ahead of a planned June visit to Israel by President Biden, coming at a time of mounting instability in Israel's coalition government and the recent approval of more than 4,200 new housing units in Israeli settlements in the West Bank. U.S. State Department spokesman Ned Price, responding to a question about the high court ruling, beseeched both Israelis and Palestinians to avoid steps that raise tensions. "This certainly includes evictions," he said.
read more
US envoy, lawmakers warn Israel against ousting Palestinians from South Hebron Hills
US Ambassador to the UN Linda Thomas-Greenfield and 83 Democratic lawmakers from both houses of Congress expressed alarm on Thursday over Israeli plans to evict roughly 1,300 Palestinians from the South Hebron Hills in the West Bank in order to make way for a military training zone… In their letter to Blinken, led by Sen. Jeff Merkley and Rep. Melanie Stansbury, the Democratic lawmakers wrote that "such evictions undermine our shared democratic values, imperil Israel's security, and disregard Palestinian human and civil rights."
read more
Israel puts E1 settlement project back on agenda, weeks ahead of Biden trip
The Defense Ministry is planning to advance a controversial housing project in the E1 Area of the West Bank after the Israeli government withdrew the plan in January amid international pressure, and assured the Biden administration that it would not be moving forward with it… The homes would be built between the Ma'ale Adumim settlement and Jerusalem in the middle of the West Bank, breaking up contiguity between Palestinian neighborhoods in East Jerusalem and the Palestinian cities of Ramallah and Bethlehem.
read more
"'They were shooting directly at the journalists': New evidence suggests Shireen Abu Akleh was killed in targeted attack by Israeli forces"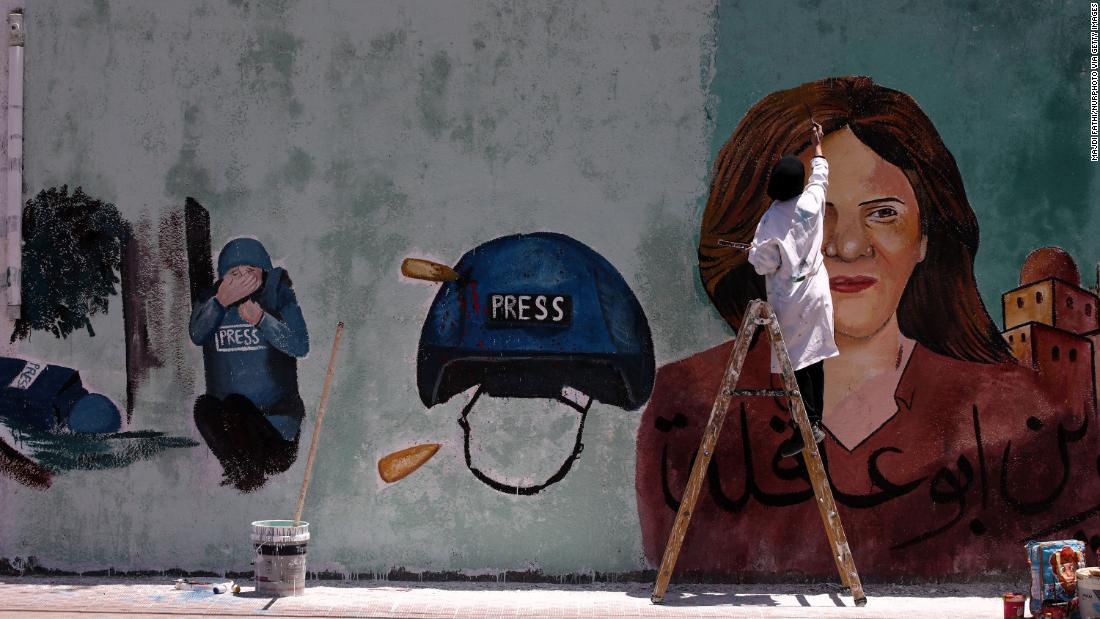 "[A]n investigation by CNN offers new evidence — including two videos of the scene of the shooting — that there was no active combat, nor any Palestinian militants, near Abu Akleh in the moments leading up to her death. Videos obtained by CNN, corroborated by testimony from eight eyewitnesses, an audio forensic analyst and an explosive weapons expert, suggest that Abu Akleh was shot dead in a targeted attack by Israeli forces."
read more
Israeli nationalists chant racist slogans in Jerusalem march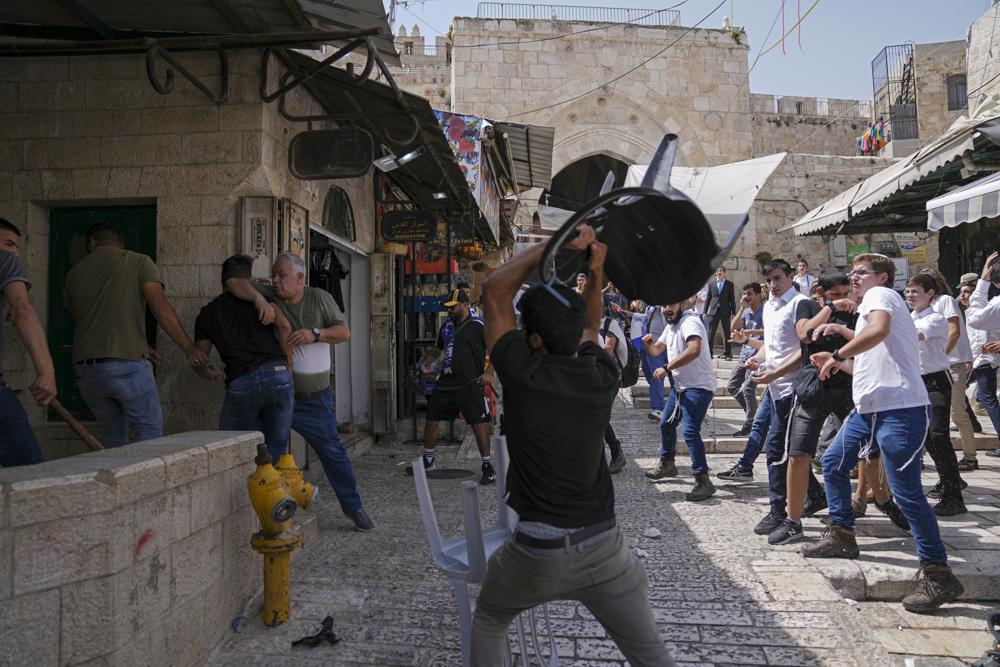 As the march got underway, groups of Orthodox Jewish youths gathered outside Damascus Gate, waving flags, singing religious and nationalistic songs, and shouting "the Jewish nation lives" before entering the Muslim Quarter. One large group chanted "Death to Arabs," and "Let your village burn down" before descending into the Old City. Police cleared Palestinians out of the area, which is normally a bustling Palestinian thoroughfare.
read more
In call, Abbas tells Blinken US must 'turn talk into actions,' end 'silence'
Palestinian Authority President Mahmoud Abbas slammed "American silence" and insisted that the current United States administration must "turn its talk into actions" during a phone call with Secretary of State Antony Blinken on Tuesday night. Blinken's call with Abbas came as frustration boils in Ramallah over the Biden administration's refusal to introduce a significant Mideast diplomatic initiative and its failure to follow through on promises to roll back measures taken by former president Donald Trump that the PA views as having downgraded ties with Washington.
read more
Pentagon weighs downgrading rank of U.S. Palestinian security post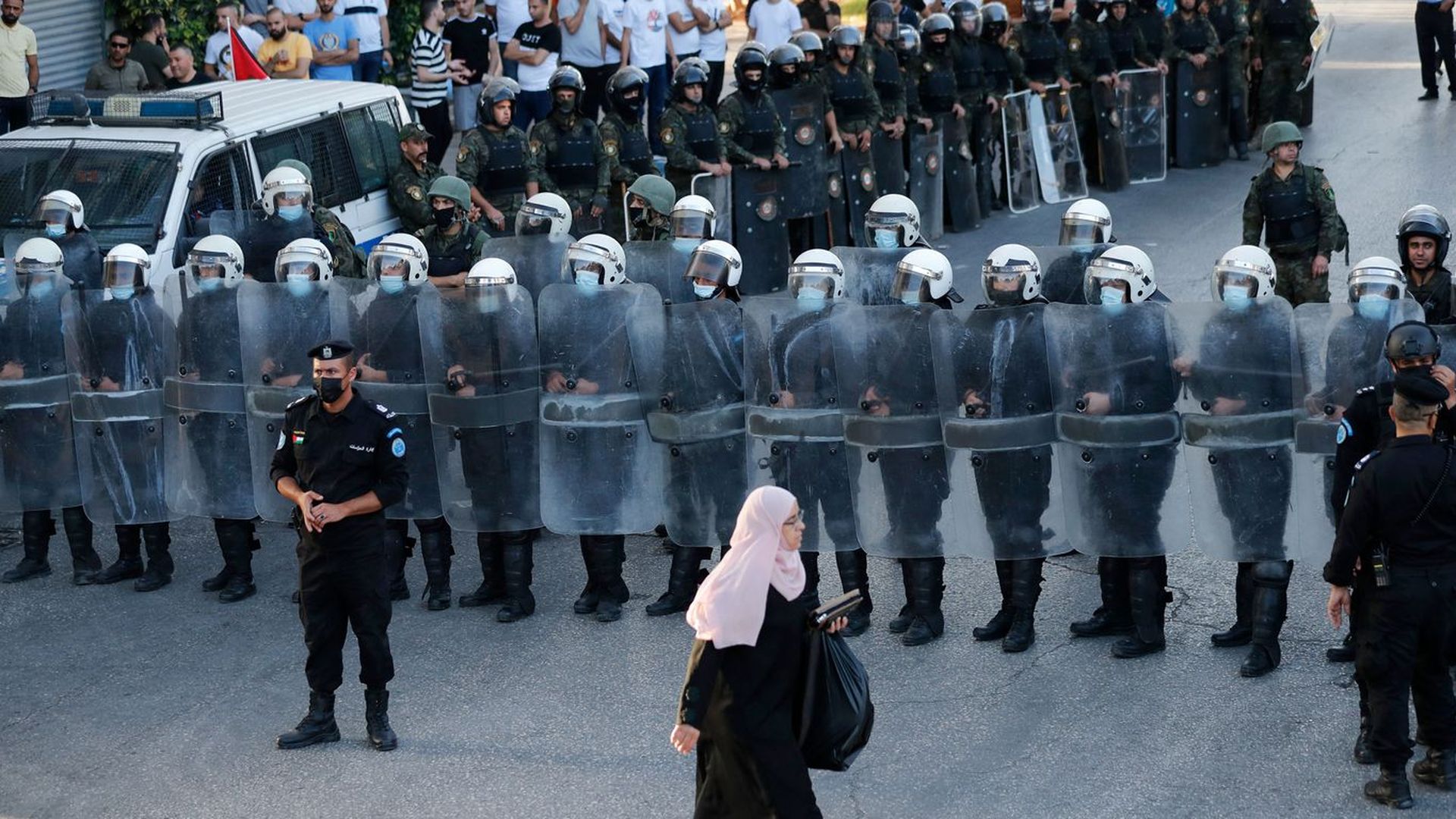 The Pentagon is considering downgrading the post of the official in charge of security coordination with the Palestinian Authority from the rank of three-star general to that of a colonel, four current and former U.S. officials and two Israeli officials told Axios. The State Department and the Israeli Defense Ministry are concerned such a decision could hurt security cooperation between the U.S. and Palestinians and damage security coordination between Israeli and Palestinian officials as tensions escalate in the occupied West Bank.
read more
Lacking votes, coalition pulls bid to extend application of Israeli law to settlers
Originally enacted in the aftermath of the 1967 Six Day War, the law remains an "emergency measure" that must be renewed every five years. Last passed in 2017, it is set to expire at the end of June. Because Israel has not annexed the West Bank, its residents live under the Israel Defense Forces' military law. The measure applies Israeli criminal law and certain key civil laws — such as income tax and health insurance — to Israelis living in the West Bank. In practice, it ensures that settlers are treated as though they live in Israel in most matters, without extending those laws to Palestinians living in the same areas.
read more
Jerusalem holds annual Pride Parade despite threats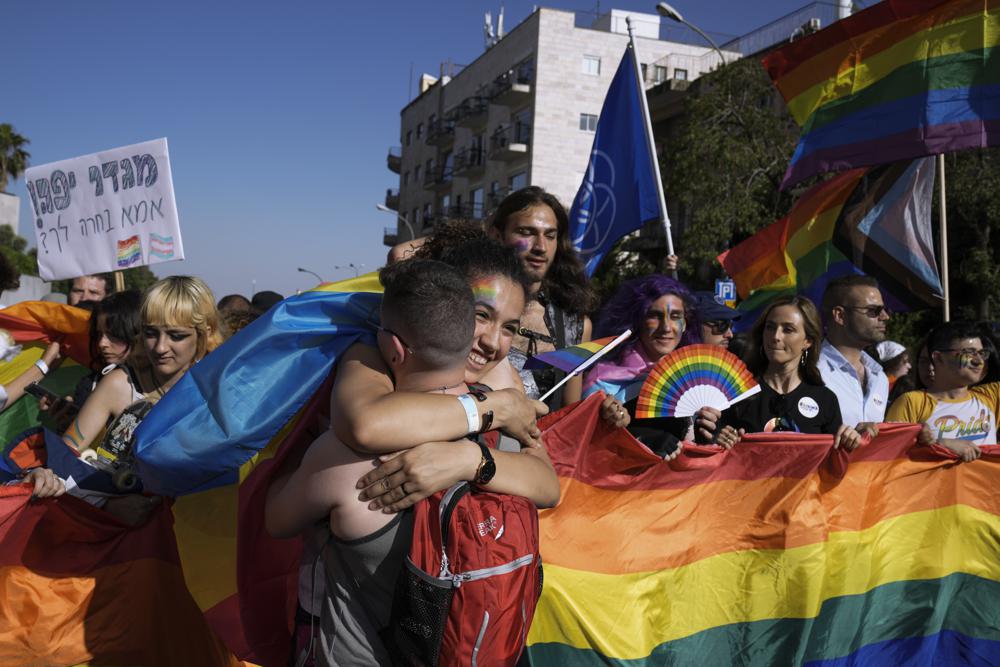 Thousands of people attended the annual Jerusalem Pride Parade on Thursday amid heavy protection by Israeli police, who arrested three people suspected of threatening the event. Past years have seen religious radicals attack participants. Jerusalem is home to a large ultra-Orthodox Jewish community and other conservative religious groups, and many residents oppose the event. The Jerusalem parade is much smaller than the yearly festivities in the more liberal Tel Aviv, Israel's commercial hub on the Mediterranean Sea. Up to 7,000 people attended the Jerusalem march this year, police said.
read more
Israel, UAE boost ties with free trade pact
Israel signed a free trade agreement with the United Arab Emirates on Tuesday, its first with an Arab state and one which eliminates most tariffs and aims to lift their annual bilateral trade to more than $10 billion. It was signed in Dubai by Minister of Economy and Industry Orna Barbivai and her counterpart, UAE Minister of Economy Abdulla bin Touq Al Marri, after months of negotiations.
read more
U.S. made mistake by exiting Iran nuclear deal, Israeli official says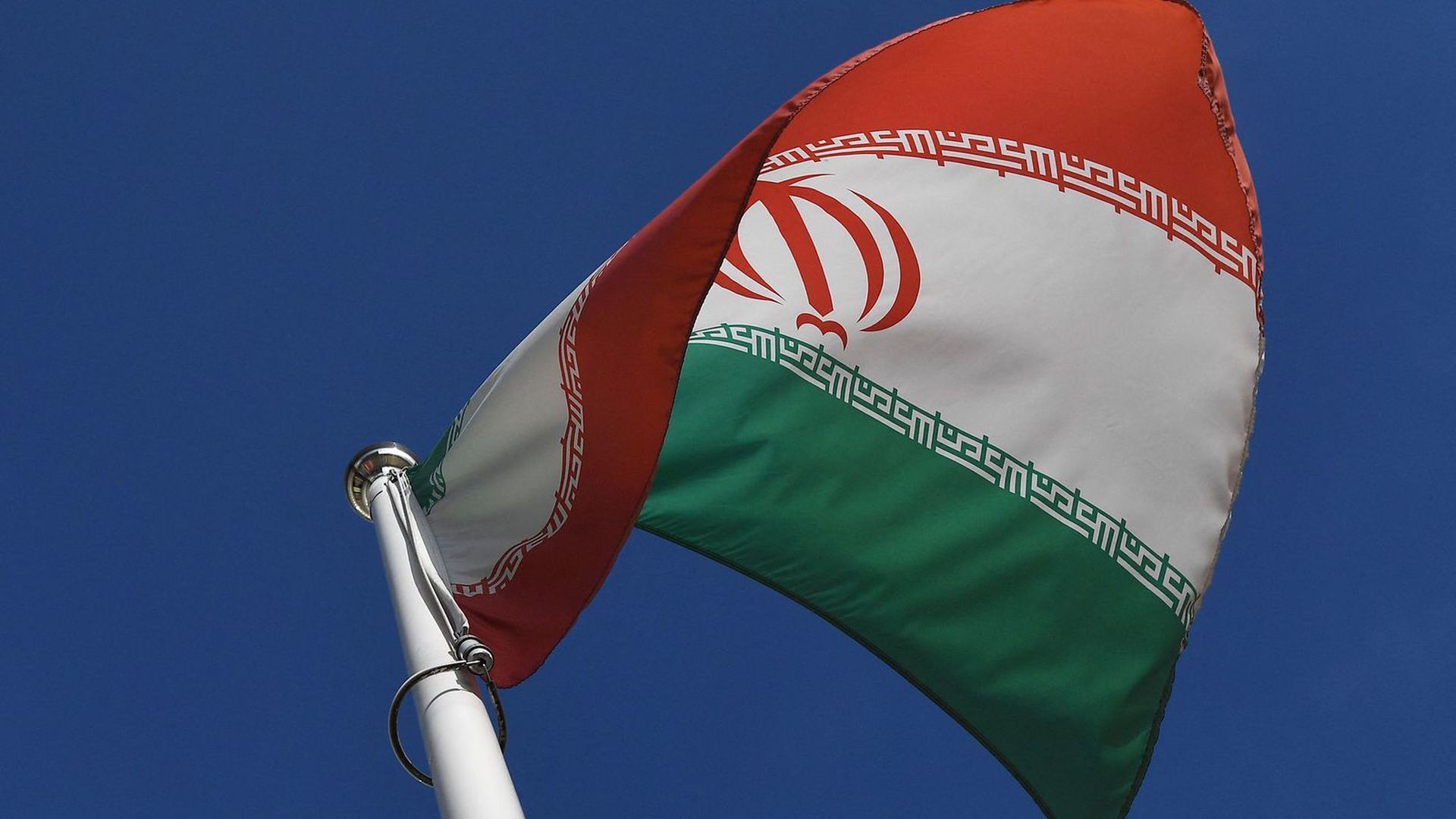 One of Israel's most senior defense officials told Pentagon and State Department counterparts during a recent visit to Washington that the U.S. made a mistake by withdrawing from the 2015 nuclear deal with Iran, according to three Israeli and U.S. officials… Retired Brig. Gen. Dror Shalom, the head of the political-military bureau in the Israeli Ministry of Defense, visited Washington last week for the first time since he assumed office in April. Shalom has one of the most influential positions in the national security establishment in Israel. He oversees security policy and sits on all senior decision-making forums, including on Iran.
read more
Iran has enough uranium to build an atomic bomb, U.N. agency says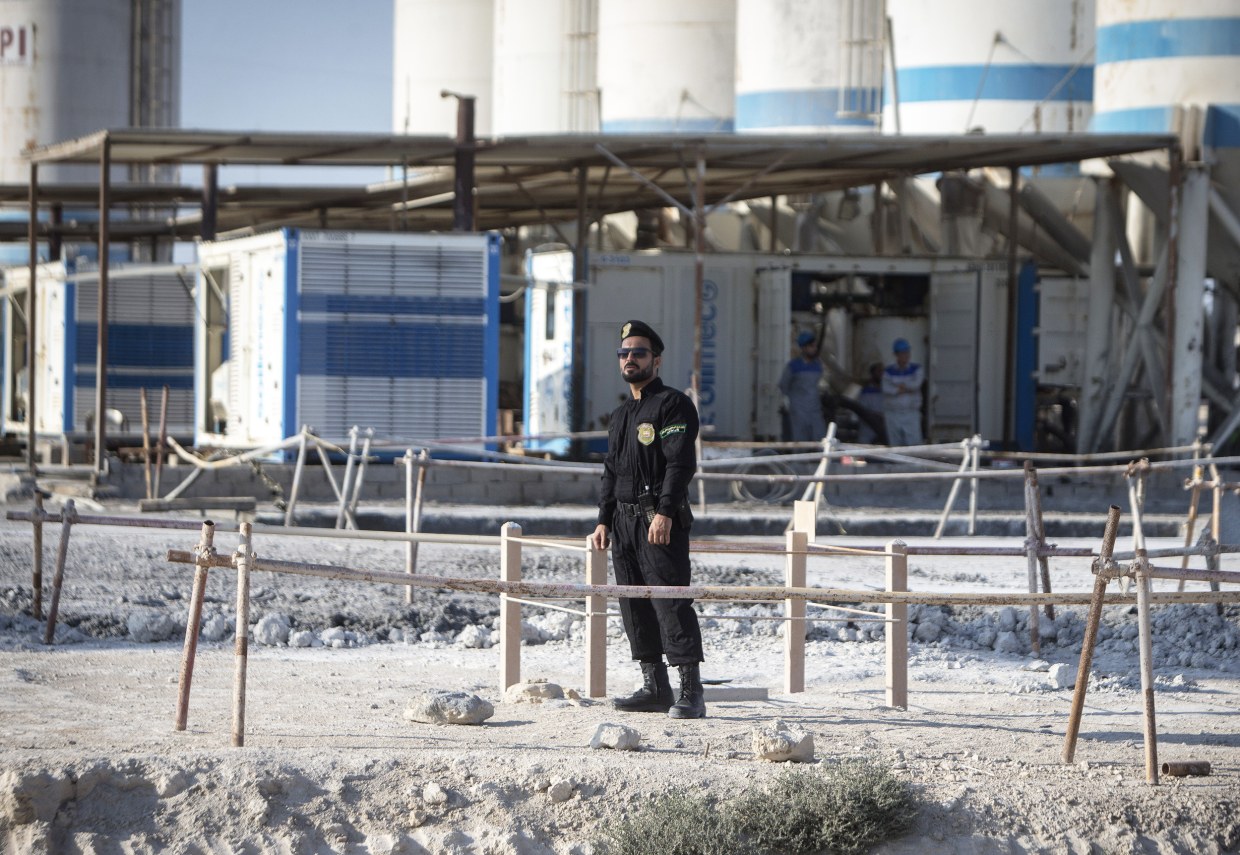 The U.N. reports came as international talks aimed at reviving a 2015 nuclear deal with Iran have stalled. The accord imposed limits on Iran's nuclear program in return for lifting economic sanctions. But then-President Donald Trump withdrew the United States from the deal in 2018 and reimposed sanctions. Iran has since steadily blown past the deal's restrictions on its nuclear activity, including limits on its use of advanced centrifuges and its stockpile of uranium.
read more