I'm writing to share news updates about a new letter from 50 House Democrats opposing Israeli plans to demolish the Palestinian community of al-Walaja and displace its 300 residents, a terrorist attack in Be'er Sheva that killed four Israeli civilians, and more.
As negotiations over Iran's nuclear program continue, I encourage you to bookmark IranDiplomacyWorks.org for the latest news and resources.
As always, you can find our Congressional briefing book, background information on the Israeli-Palestinian conflict, recordings of previous briefings and more at J Street's Congressional Resource Page.
Let me know if you have any questions or would like further information.
All the best,
Debra
—
Debra Shushan, PhD
Director of Government Affairs, J Street
mobile: (757) 746-0366 | [email protected] | @DrShushan
This week on j street
STATEMENT

J STREET MOURNS PASSING OF SECRETARY MADELEINE ALBRIGHT, A CHAMPION FOR DIPLOMACY AND DEMOCRACY

Read more →
VIDEO

REPS. JENNIFER WEXTON AND JARED HUFFMAN REPORT BACK ON THE J STREET CONGRESSIONAL DELEGATION TO ISRAEL AND THE PALESTINIAN TERRITORY

Watch →
What we're reading
House Democrats Ask Blinken to Stop 'Destruction and Displacement' of Palestinian Village
Fifty House Democrats urged U.S. Secretary of State Antony Blinken to prevent Israel from moving forward with the planned displacement of Palestinian families and the demolition of their homes in the West Bank village of Walaja. "The destruction and displacement of this community would run counter to the values shared by the U.S. and Israel, while further undermining long-term Israeli security, Palestinian dignity, and prospects for peace," the lawmakers — led by Reps. Jan Schakowsky, David Price, Jamie Raskin, John Yarmuth and Mark Pocan — wrote concerning the pending eviction of 38 Palestinian families, totaling approximately 300 people.
read more
Four Killed in Southern Israel in Latest in Spate of Attacks
Four Israelis were killed in a knife and car-ramming attack in Beersheba, in southern Israel, on Tuesday afternoon, in the third attack on Israeli Jews in less than a week… The spate of recent attacks has heightened fears of violence in April — when the Muslim holy month of Ramadan, the Jewish holiday of Passover and the Christian holiday of Easter unusually all fall at the same time. Ramadan is often a period of high tension in Israel, the West Bank and Gaza; tensions related to Ramadan helped stoke the Gaza war last May, and officials and analysts fear the convergence of three religious festivals could further inflame relations.
read more
Blinken to visit Israel, West Bank, Morocco and Algeria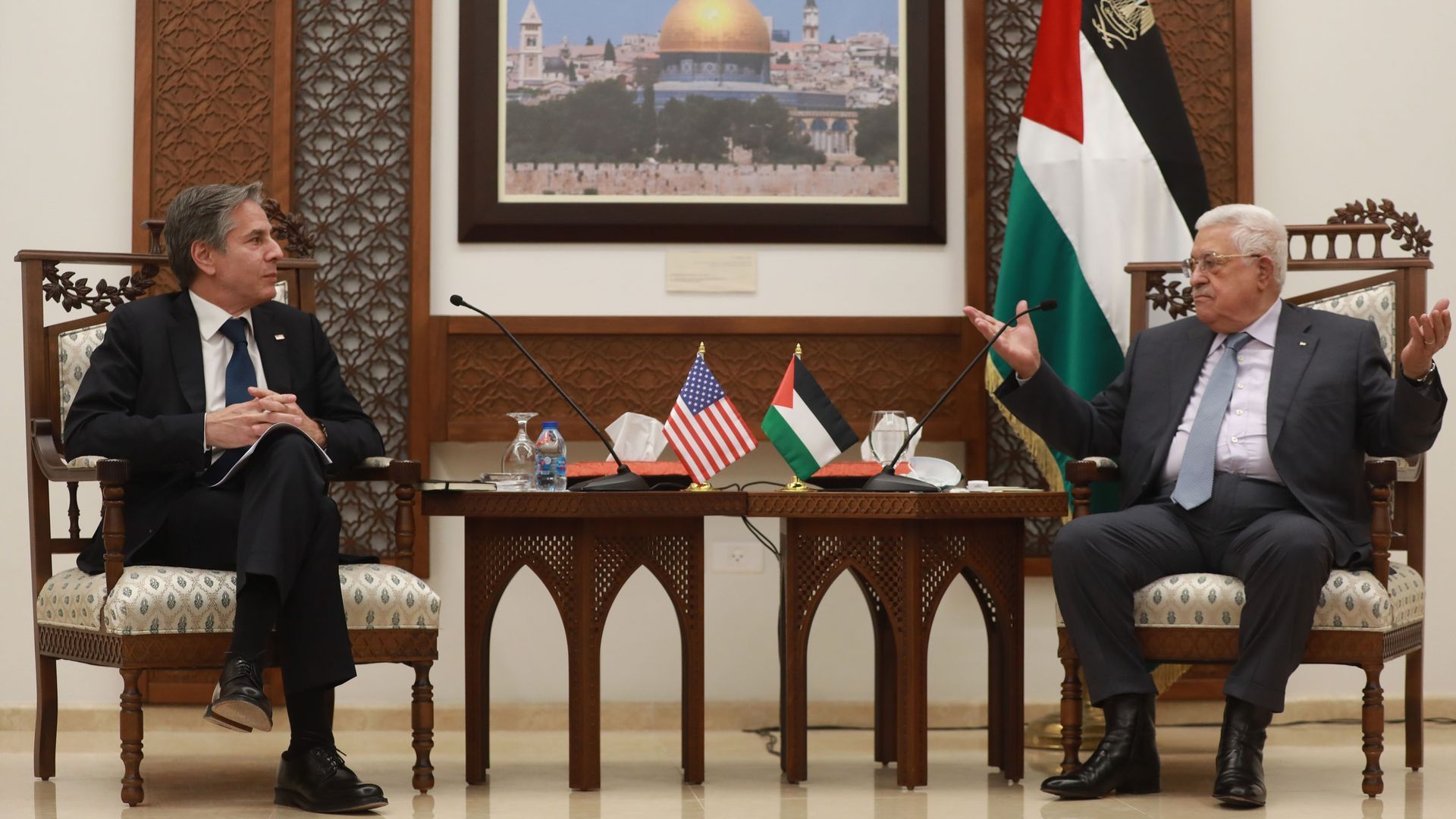 Secretary of State Tony Blinken is expected to travel to the Middle East next week after he joins President Biden's trip to Brussels and Poland, four U.S. and Israeli officials tell me. Blinken is set to arrive at a time when U.S. relations with many of its partners and allies in the region are tense. His original itinerary included stops in Saudi Arabia and the UAE, but as the dates of the trip shifted back and forth several times, those visits were dropped.
read more
Leaders of Israel, U.A.E. and Egypt Meet for Their First Summit
Egypt hosted the first summit meeting with leaders of Israel and the United Arab Emirates on Monday and Tuesday, the latest sign of a swift realignment of Middle Eastern political alliances since Israel established diplomatic relations in 2020 with several Arab countries. Governments in all three countries were circumspect on what Israel's prime minister, Naftali Bennett; the de facto ruler of the United Arab Emirates, Crown Prince Mohammed bin Zayed; and Egypt's president, Abdel Fattah el-Sisi, discussed at their meeting in the Red Sea resort of Sharm el Sheikh.
read more
Israeli Troops' New Quota: Add 50 Palestinians to Tracking Database Every Shift
Soldiers posted in the West Bank have recently received instructions from their commanders that in any shift at a checkpoint or guard post they must enter the details and photos of at least 50 Palestinians to the IDF's "Blue Wolf" tracking system. A soldier who doesn't make the quota, they were told at the briefing, will not be relieved from duty at the end of their shift and will be forced to remain on duty until they make quota.
read more
Israel's field hospital in Ukraine welcomes first patients as air raid sirens wail
Battling persistent air raid sirens, limited resources, and the shadow of wartime uncertainty, Israel's state field hospital opened Tuesday afternoon in western Ukraine, with the first patients arriving just minutes after its official opening. Housed on the grounds of an elementary school in Mostyska, outside Lviv, the NIS 21 million ($6.5 million) facility fills 10 outdoor tents and has also converted multiple classrooms into hospitalization wards. Beside chalkboards and educational posters lie heart rate monitors, incubators and reclinable hospital beds. The Israeli mission's 100 staff members – 80 of whom are doctors and nurses – will sleep on-site, in dorm-like conditions, improvised within the school building.
read more
Ukraine War Ignites Israeli Debate Over Purpose of a Jewish State
Of the more than 15,200 Ukrainians who have arrived in Israel since the war began last month, nearly 11,000 do not meet the citizenship threshold. Even though most have relatives or friends in Israel, they are considered refugees, not immigrants, and subject to stricter rules. The influx has ignited an emotional debate over what it means to be a Jewish state, pitting the national imperative to maintain Israel's Jewish character against Jewish values that demand caring for those in need.
read more
Analysis | Removing the IRGC from the FTO List Risks Nothing
Iranian negotiators are seeking the removal of the Foreign Terrorist Organisation (FTO) designation placed on the Islamic Revolutionary Guard Corps (IRGC), part of Iran's armed forces. The FTO designation was imposed by the Trump administration in April 2019… Given the noise about the FTO issue over the last few weeks, the Biden administration is already paying a political cost for the anticipated removal of the designation. But the administration should not lose sight of what will be gained. Removing the designation in no way changes the legal or political status of the IRGC, but it does enable the restoration of the Iran nuclear deal. For those who care about US national security, the choice is clear.
read more