I'm writing to share J Street's statements and news updates regarding a string of deadly terrorist attacks that have killed 11 Israelis in recent days; a summit between Israeli, American, and Arab foreign ministers in the Negev desert; and more.

I'm pleased to share that, after 50 House Democrats wrote a letter to Secretary Blinken opposing Israeli plans to demolish 38 homes in the Palestinian community of al-Walaja and displace its 300 residents, the Israeli High Court granted a six-month extension to an injunction barring demolitions, allowing time for the development of a zoning plan for the village. Time and again, we have seen that Members of Congress can make a difference when they speak out publicly – in this case, by helping to forestall the destruction of a Palestinian village and the forced displacement of the families that live there. We are grateful to all the Members who signed this letter. If your boss was among them, thank you!

As negotiations over Iran's nuclear program continue, hopefully toward a successful conclusion, I encourage you to bookmark IranDiplomacyWorks.org for the latest news and resources.

As always, you can find our Congressional briefing book, background information on the Israeli-Palestinian conflict, recordings of previous briefings and more at J Street's Congressional Resource Page.

Let me know if you have any questions or would like further information.

All the best,
Debra

—
Debra Shushan, PhD
Director of Government Affairs, J Street
mobile: (757) 746-0366 | [email protected] | @DrShushan
This week on j street
STATEMENT

J STREET HORRIFIED BY RECENT TERROR ATTACKS AGAINST ISRAELIS

Read more →
BLOG

THE ISRAELI GOVERNMENT'S EFFORT TO TAKE OVER EAST JERUSALEM

Read more →
What we're reading
Israel Bolsters Security Amid Deadliest Wave of Terrorist Attacks in Years
Israel security forces bolstered their presence across the country and the occupied territories early Wednesday, the morning after a Palestinian gunman killed five people in the fifth attack in less than two weeks. The recent surge in violence and fears of even more attacks prompted the Army to send reinforcements to the occupied West Bank, where the gunman behind Tuesday night's attack lived. Forces also deployed along the boundary between Israel and Gaza.
read more
After Israel attacks, sidelined Palestinian issue reemerges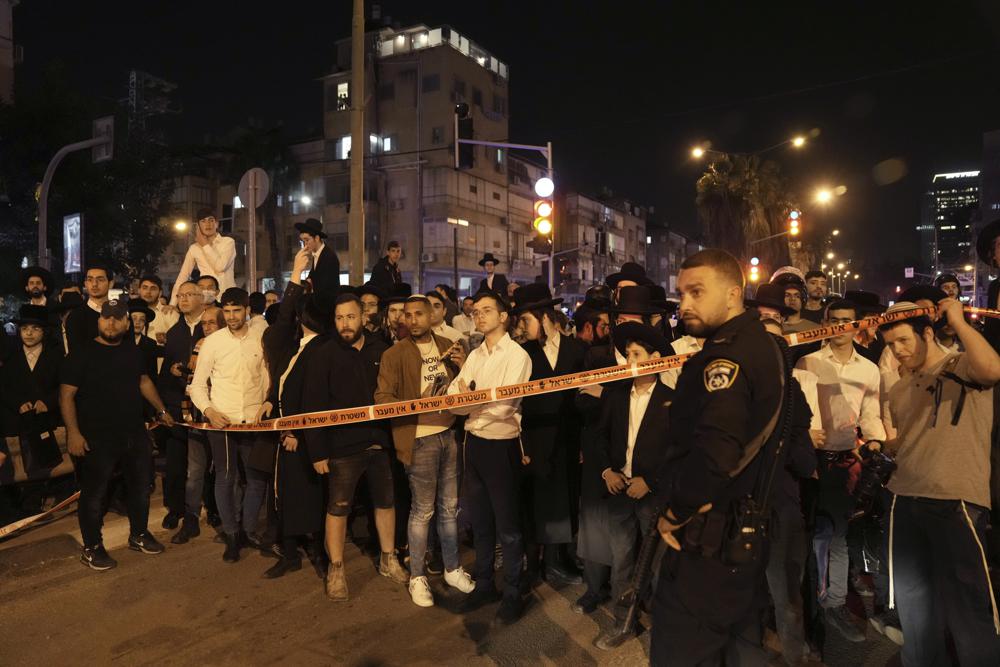 Israel's government, with support from the Biden administration, has tried to do what leaders describe as "shrinking" the conflict. Instead of seeking a partition deal with the Palestinians, it aims to keep things quiet by taking steps to improve the Palestinian economy and reduce frictions. But now, as Israel faces the possibility of another cycle of violence less than a year after a war with Hamas militants in Gaza, the Palestinian issue is once again clawing its way back to the fore and exposing the weaknesses of this approach.
read more
Israel Summit Shows Ties With Arabs Moving From Ceremony to Substance
The groundbreaking meeting — the first involving so many Arab, American and Israeli officials on Israeli soil at once — is evidence of Israel's acceptance by key Arab leaders, said Abdulkhaleq Abdulla, an Emirati political scientist. It suggests that the relationship between the United States and its Middle East partners is about to enter a new phase. "This is a way to show that American friends, American partners, are speaking to America collectively, rather than individually," he said. "Maybe that way, Washington will listen to us more on key issues." … The decision to hold the meeting in the Negev, rather than in Jerusalem, reflects how the status of the city is nevertheless still a highly delicate issue for Arab leaders.
read more
Gantz meets Jordanian king in Amman to discuss tensions amid Ramadan
Defense Minister Benny Gantz met with Jordanian King Abdullah II in Amman on Tuesday to discuss concerns of spiraling violence amid the upcoming holy month of Ramadan, Gantz's office said. It was the third meeting between Abdullah and Gantz, with the first happening secretly in February 2021, and a second taking place publicly in January this year. According to Gantz's office, the meeting focused on local security and policy topics.
read more
Far-right Israeli Lawmaker Visits Temple Mount Amid Tensions
Far-right lawmaker Itamar Ben-Gvir visited the Temple Mount on Thursday morning and toured the site for about fifteen minutes, against the backdrop of a wave of terror attacks across Israel days before the start of Ramadan… Ben-Gvir is a prominent Kahanist figure who notably set up a makeshift office in the contested neighborhood of Sheikh Jarrah last May, following clashes over Israeli plans to evict Palestinians from their homes. The move caused increased tension in the neighborhood, and Ben-Gvir only shut down the office following a personal request from then Prime Minister Benjamin Netanyahu.
read more
Greek Orthodox Church decries 'extremist' takeover of Jerusalem hostel
Greek Orthodox Church leaders on Tuesday denounced what they called the "illegal" takeover by Israeli "extremists" of a Jerusalem hostel operated by Palestinians. It said members of the settler organisation Ateret Cohanim broke into the east Jerusalem property on Sunday, in addition to a neighbouring money change shop, and received Israeli police protection despite possessing no eviction notice.
read more
Senate confirms Lipstadt in late-night vote
The Senate confirmed Deborah Lipstadt to serve as the U.S. special envoy to monitor and combat antisemitism by a voice vote late Wednesday evening, eight months after the Biden administration first announced the Holocaust historian's nomination… The late-night confirmation caps off a quagmire that left Lipstadt stuck in the Senate Foreign Relations Committee — which cleared Lipstadt's nomination on Tuesday — for months. Republicans on the committee objected to a tweet by Lipstadt accusing committee member Sen. Ron Johnson (R-WI) of trafficking in "white supremacy/nationalism" and blocked her for months from receiving a confirmation hearing and subsequently delayed a committee vote.
read more
U.S. SECRETARY OF STATE ANNOUNCES NITA M. LOWEY MEPPA AWARD TO PROMOTE CLIMATE RESILIENCE AND WATER SECURITY IN THE WEST BANK, GAZA, AND ISRAEL
The $3.3 million grant to EcoPeace will address water security in Israel and the West Bank and Gaza. Over three years, the project will use dual-track scientific and grassroots approaches to build awareness, knowledge, and solutions to the challenges of water scarcity and climate change. The project will bring together Israeli and Palestinian scientific experts to cooperatively build solutions for equitable and sustainable use of shared water supplies.
read more
The president will get his way': Congress likely can't stop new Iran nuke deal
Opponents of the new agreement would need to recruit at least 10 Democrats to support a disapproval resolution — an unlikely prospect, and one that nuclear-deal advocates see as an easy political choice for vulnerable senators. "This is a winnable fight for the administration," said Dylan Williams, the chief lobbyist for J Street, a progressive pro-Israel group. "It's important to remember that not one Democratic lawmaker who voted for the Iran deal in 2015 lost their seat to someone who opposed the deal in 2016. Not one."
read more
U.S. imposes sanctions on key actors in Iran's ballistic missile program
A U.S. official, who spoke on condition of anonymity, said the sanctions were not related to efforts to revive the nuclear deal under which Iran had limited its nuclear program to make it harder to develop a nuclear bomb — an ambition it denies — in return for relief from global economic sanctions. "While the United States continues to seek Iran's return to full compliance with the Joint Comprehensive Plan of Action, we will not hesitate to target those who support Iran's ballistic missile program," the Treasury's Under Secretary for Terrorism and Financial Intelligence Brian Nelson said in the statement.
read more
Analysis | Israel's Negev Summit Was a Good Thing, but Don't Call It 'Historic'
More important than anything else at the summit was a conspicuously absent Palestinian delegation. Here's an inconvenient truth: A summit that ignores the Palestinians is a summit that ignores reality. It's that simple. Israel thinks the Abraham Accords are a substitute for negotiating with the Palestinians? Think again. "Regional peace agreements are no substitute to an agreement with the Palestinians," U.S. Secretary of State Antony Blinken said. Israel thinks the two-state solution is off the table? Think again. "We spoke about the importance of the two-state solution with East Jerusalem as the Palestinian capital," said Egyptian Foreign Minister Sameh Shoukry.
read more