I'm writing to share J Street's statements and news updates following a difficult week in Israel and the occupied Palestinian territory which saw two deadly terror attacks against Israeli civilians and Israel's extending closures of entries into Gaza and the West Bank.
There have been other extremely significant developments, as well. The Israeli High Court ruled to allow the government to pursue a massive forced transfer of approximately 1,000 Palestinians from Masafer Yatta in the occupied West Bank. In addition, the Israeli government announced that it will advance thousands of new housing units for Israeli settlements, many of them deep in the West Bank; it is the biggest Israeli settlement announcement since President Biden took office. Meanwhile, Biden is set to travel to Israel in June.
As always, you can find our Congressional briefing book, background information on the Israeli-Palestinian conflict, recordings of previous briefings and more at J Street's Congressional Resource Page.
Let me know if you have any questions or would like further information.
All the best,
Debra
—
Debra Shushan, PhD
Director of Government Affairs, J Street
mobile: (757) 746-0366 | [email protected] | @DrShushan
This week on j street
STATEMENT

J STREET CONDEMNS HORRIFIC TERROR ATTACK IN ELAD

Read more →
STATEMENT

BIDEN ADMINISTRATION MUST ACT TO OPPOSE MASS DISPLACEMENT, NEW SETTLEMENT EXPANSION IN THE WEST BANK

Read more →
What we're reading
Israeli court paves way for eviction of 1,000 Palestinians from West Bank area
After a two-decade legal battle, Israel's high court has ruled that about 1,000 Palestinians can be evicted from an area of the West Bank and the land repurposed for Israeli military use, in one of the single biggest expulsion decisions since the Israeli occupation of the Palestinian territories began in 1967… The high court decision… accepted the state's argument that the community could not prove they were residents before the 1980s, despite expert testimony and literature presented in court that showed the area has been inhabited for decades. The judges also rejected the claim that the "prohibition of forcible transfer set forth in international law is customary and binding", calling it instead a "treaty norm" that is not enforceable in a domestic court.
read more
Israel to approve 4,000 housing units for Jewish settlers in occupied West Bank
Israel next week will approve the planning and building of 4,000 new housing units in Jewish settlements in the occupied West Bank, the Israeli Ministry of Defense said on Friday. The announcement comes as preparations are underway for President Biden's visit to Israel, which is expected to take place in the last two weeks of June… Israeli officials told Biden administration officials that if no new building was approved in the settlements, the government could collapse due to the fragile state of the coalition. They had also stressed that the move would take place after Ramadan… Due to the Biden administration pressure, the Israeli government decided to decrease the number of new housing units it approved from 5,800 to 4000, according to three sources with direct knowledge of the issue. One of the senior Israeli officials said the decision to make the announcement Friday and to convene the committee next week was done to have the biggest margin of time possible ahead of Biden's visit.
read more
PA leader Abbas condemns Elad terror attack; Israel extends West Bank, Gaza closure
"The killing of Palestinian and Israeli civilians only leads to a further deterioration of the situation, at a time when we all strive to achieve stability and prevent escalation," Abbas said in a statement…The Hamas terror group, which opposes Abbas, immediately praised the attack in Elad. Hamas officials blamed Israel for allowing hundreds Jewish visitors to worship at the Temple Mount holy site earlier on Thursday. Following the deadly terror attack, Israeli security officials extended the closure on West Bank and Gaza Palestinians until Sunday… The policy effectively means that Palestinians with work permits cannot enter Israel; checkpoints for Israelis into and out of the West Bank remain open.
read more
Crucial Week Ahead as Bennett Scrambles to Keep Shaky Government Together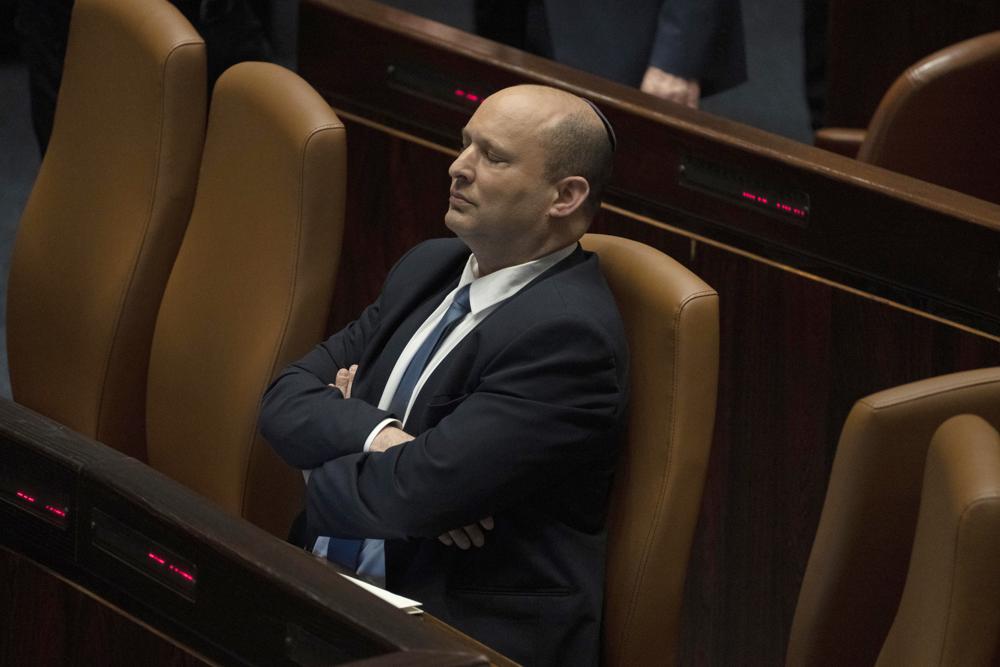 Following last month's resignation of coalition whip Idit Silman, the government has been left with only 60 Knesset seats, the same size as the opposition, destabilizing it and prompting rumbles of discontent among other members of Prime Minister Naftali Bennett's Yamina party. Bennett moved quickly to sooth Yamina lawmakers… pushing through policy moves related to the economy and the settlements to keep them within the fold. …In order to stay in office, Bennett will also need the support of Mansour Abbas' Islamist United Arab List Party. In April, the UAL declared that it was "freezing" its membership in the coalition during the Knesset recess in the wake of clashes on Jerusalem's Temple Mount compound.
read more
Capturing Terrorists Is Not Enough': Bennett Pushes for Civilian National Guard
The Israeli government will establish a new "civilian national guard" to fight terrorism, Prime Minister Naftali Bennett announced Sunday, after Israeli forces captured two Palestinians who murdered on Thursday three Israelis in the ultra-Orthodox city of Elad… It is unclear exactly what this "civilian national guard" will consist of or look like. The attack in Elad is the latest in a string of Palestinian terror attacks in Israel and the West Bank have left 19 dead. Meanwhile, at least 27 Palestinians have been killed by Israeli forces, some related to operations to locate suspects in the attacks.
read more
Israeli Soldiers Beat Palestinian Journalist Documenting West Bank Demolition
Adraa was in al-Tuwani to report on Israeli soldiers' order for a Palestinian to take down a makeshift structure he had built there. As he started documenting, Adraa recalled, one of the soldiers shoved him while "a masked officer said that anyone who tried to pass him would be arrested." Adraa added that he asked the soldiers whether they had a military decree and was not given an answer. "I did not pass the line the officer indicated, but he ordered to arrest me anyway. I told them I was a journalist and was filming," he said. At this point, two soldiers "grabbed me violently, pushed me, and threw me to the ground, which was covered in stones. My sandals and video camera fell off as they started to hit me with their weapons and kicked me," he said, adding that the soldiers identified him by name, as he often reports in that area. The soldiers did not arrest Adraa. He had to find help from others to be evacuated to a nearby hospital, where staff ran some tests before releasing him. In a statement, the Israeli military said it was looking into the incident, without any mention of Adraa.
read more
IDF maps West Bank homes of Elad terrorists ahead of potential demolitions
The Israeli military said Sunday that troops were operating in the West Bank town of Rummanah, the hometown of two Palestinians suspected of carrying out a deadly terror attack late last week, in order to map out their residences ahead of a potential demolition… A Rummanah resident said in a phone call with The Times of Israel that there were dozens of soldiers in the town. "The whole town is full of jeeps and dozens of soldiers. They've encircled the whole area. The atmosphere is tense," he said.
read more
Biden Could Make the World Safer, but He's Too Afraid of the Politics
Secretary of State Antony Blinken told the Senate Foreign Relations Committee in late April… that failing to reach a deal that arrests Iran's nuclear progress would have grave consequences. The Islamic republic, he estimated, is only a "matter of weeks" from being able to construct a nuclear weapon. Given all of that, something else Mr. Blinken said is even more shocking. He said the terrorist designation doesn't matter. "As a practical matter," he explained, "the designation does not really gain you much because there are myriad other sanctions on the I.R.G.C." By its own admission, the Biden administration is risking the Iran nuclear deal for nothing.
read more