I'm writing to share J Street's statements and news updates.
US and International response are building as Israel's new far-right government announced its decision to move forward with the largest single West Bank settlement expansion ever, as well as "legalization" of illegal settlement outposts – despite opposition from the Biden administration. As the Netanyahu government moves quickly to neutralize Israel's Supreme Court, in part so that it may undertake such significant annexationist steps unchallenged, it's heartening to see hundreds of thousands of Israelis protesting at the Knesset (parliament) and holding national strikes in defense of their cherished democracy. Several prominent supporters of the US-Israel relationship are speaking out, including: Senators Durbin, Kaine, Cardin, Murphy, and Schatz, and Representatives Nadler, Sherman, Cicilline, Goldman, Cohen, and McGovern. The UN Security Council is likely to vote Monday on a resolution advanced by the United Arab Emirates, Israel's Abraham Accords partner, calling on Israel to immediately cease all settlement activities in the Occupied Palestinian Territory.
Be sure to check out our new J Street Policy Center memo calling on the Biden administration to revoke the "Pompeo Doctrine" as one of several steps in response to the Netanyahu government's massive new settlement expansion and other moves toward annexation, as well as our dossier on the Netanyahu government.
As always, you can find our Congressional briefing book, background information on the Israeli-Palestinian conflict, recordings of previous briefings and more at J Street's Congressional Resource Page.
If you have any questions, please don't hesitate to get in touch.
All the best,
Debra
—
Debra Shushan, PhD
Director of Policy, J Street
mobile: (757) 746-0366 | [email protected] | @DrShushan
This week on j street
STATEMENT

WITH ISRAELI DEMOCRACY IN CRISIS AND ANNEXATION IN PROGRESS, US MUST ACT NOW

Read more →
J STREET POLICY CENTER

Memo: It's Time to Revoke the "Pompeo Doctrine"

Read more →
J STREET POLICY CENTER

ACTION MEMO: Israeli Annexation & Anti-Democracy Moves

Read more →
What we're reading
UN Security Council Likely to Vote Monday on Call for Israel to Stop Settlements
The United Nations Security Council is considering a draft resolution, seen by Reuters on Wednesday, that would demand Israel "immediately and completely cease all settlement activities in the occupied Palestinian territory." The 15-member council is likely to vote on Monday on the text, drafted by the United Arab Emirates in coordination with the Palestinians, diplomats said. Israeli Prime Minister Benjamin Netanyahu's government on Sunday authorized nine Jewish settler outposts in the occupied West Bank and announced mass construction of new homes in established settlements. In a statement issued along with the foreign ministers of France, Germany, Italy and the United Kingdom, [U.S. Secretary of State Antony Blinken] wrote that "We are deeply troubled by the Israeli government's announcement… We strongly oppose these unilateral actions which will only serve to exacerbate tensions between Israelis and Palestinians and undermine efforts to achieve a negotiated two-state solution"… In December 2016 the Security Council demanded Israel stop building the settlements. It adopted a resolution after U.S. President Barack Obama's administration abstained, a reversal of its practice to protect Israel from UN action.
read more
Israeli president: "Powder keg about to explode" over judicial overhaul plan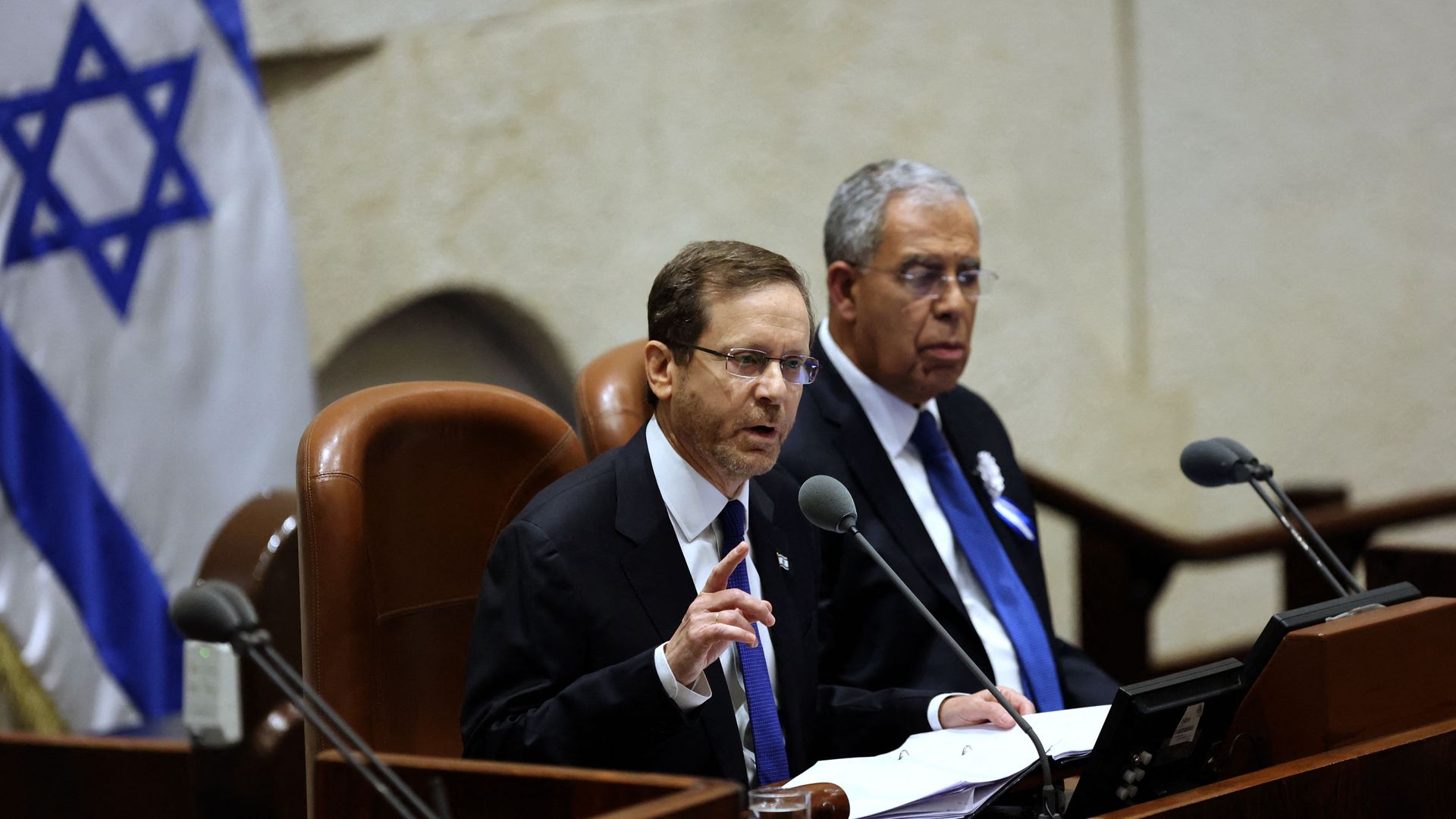 Israeli President Isaac Herzog in a speech to the nation on Sunday laid out a proposal for solving the constitutional crisis around Prime Minister Benjamin Netanyahu's plan to weaken the Supreme Court and called on the government to suspend the legislation process and enter talks on judicial reforms that will garner broad consensus. Netanyahu's judicial overhaul plan has prompted mass protests in Israel and concerns from the Biden administration about what it could mean for the U.S. ally's democracy. The first vote in the Knesset legislative committee on the first part of the judicial plan is expected on Monday. After the voting starts, it will be much harder to stop the legislative process. A national strike has also been called for Monday by the organizers of the protests against the judicial plan…. Herzog on Sunday warned that the confrontation in Israeli society around Netanyahu's plan could lead to violence… Shortly after Herzog's speech, Justice Minister Yariv Levin rejected Herzog's calls and said he wouldn't suspend the votes planned for Monday.
read more
Senate Judiciary Chair: Netanyahu Has Put His Own Interests Above Israel's Democracy
As Benjamin Netanyahu's government pushes forward its controversial plan to weaken Israel's judicial system, more and more supporters of Israel in the U.S. Congress are speaking up and warning Netanyahu about the potential implications his plan could have on Israel's democratic image. Senator Dick Durbin, the chairman of the Senate Judiciary Committee and the second-highest ranking Democrat in the chamber… said that as a long-time supporter of Israel, he is concerned that Netanyahu is "dangerously putting his own narrow political and legal interests – and those of the troubling extremists in his coalition – ahead of the long-term interests and needs of Israel's democracy." He highlighted both the government's judicial plan and the fact that Netanyahu's far-right allies "seek to sabotage any possible two-state peace agreement with the Palestinians" as two troubling developments arising from the new government. Senator Tim Kaine, a former Democratic vice presidential nominee, echoed Durbin's warnings, cautioning that Netanyahu should heed the message being sent by the Israelis protesting week after week against his judicial overhaul. Criticism is also growing from the ranks of Jewish-American lawmakers in the U.S. House of Representatives. After two stalwart Israel supporters, Reps. Brad Sherman and Jerry Nadler, spoke out against the plan, others are also raising their voice.
read more
U.S. weighs further steps against Israel's settlement expansion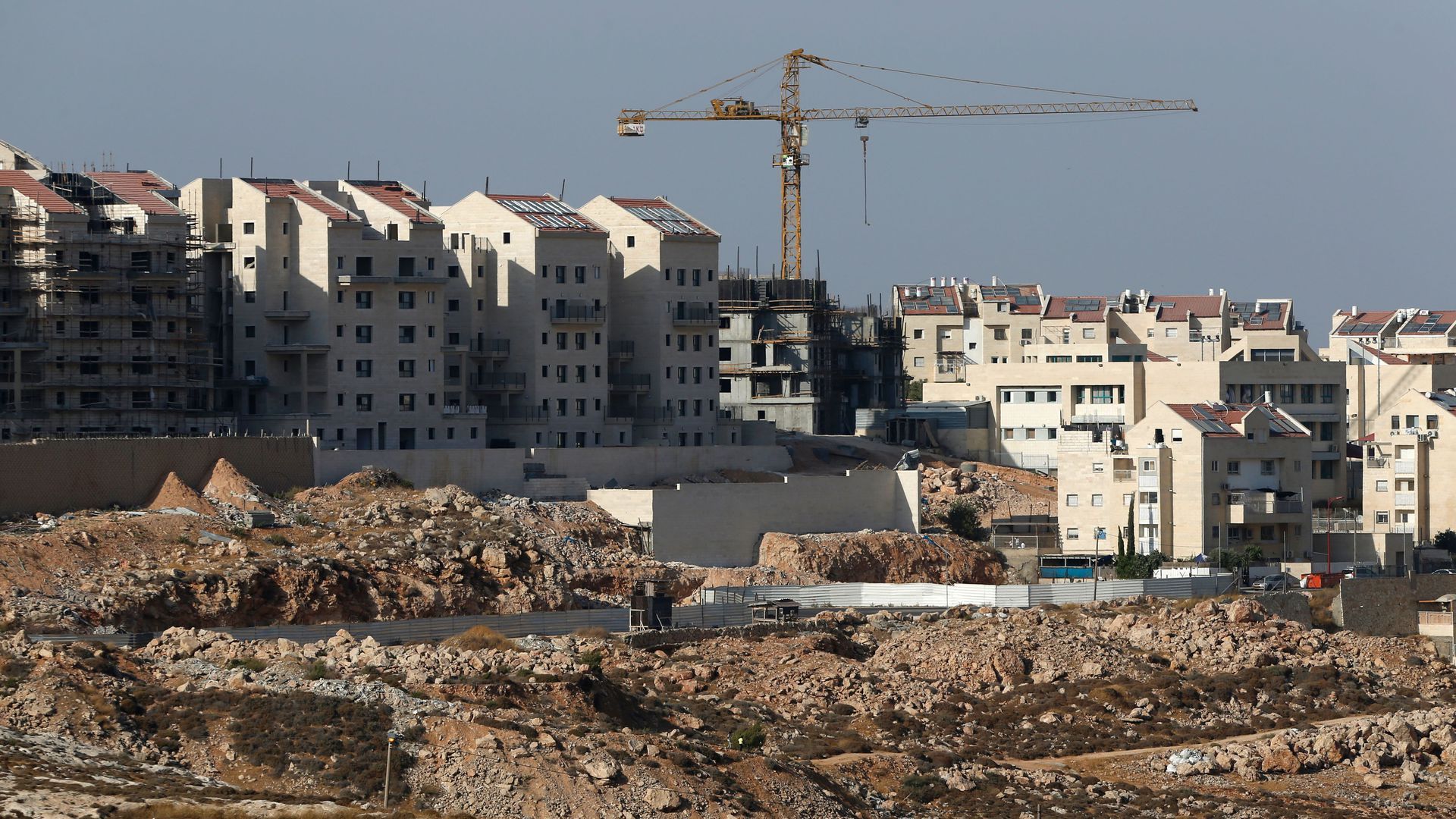 The Biden administration is discussing additional steps it can take in response to Israel's latest announcement on settlement expansion in the occupied West Bank, U.S. officials told Axios. The Israeli Cabinet decision on Sunday to legalize nine illegal outposts and approve the planning and building of close to 10,000 housing units in existing settlements in the occupied West Bank was the single biggest settlement announcement ever made. The decision came despite objections by the Biden administration… U.S. officials said they told the Israelis there will be a strong response to the upcoming decision. The messages the Biden administration gave the Israeli government in private ahead of the settlement announcement were very tough, but the public response was mild… Former U.S. envoy to the Middle East Martin Indyk told Axios that if Blinken is serious about preserving the hope of a two-state solution, expressing deep concern about the biggest settlement announcement ever is not going to do it with the Israeli government… [former U.S. Ambassador to Israel Dan Shapiro] said the Israeli government's settlements decision could harm the Biden administration's ability to work with Israel on big issues like expanding normalization with Arab states and addressing the Iranian threat.
read more
Invites for Netanyahu to visit US, UAE on hold as discomfort with government grows
It is no secret that since returning to office on December 29, Prime Minister Benjamin Netanyahu has had his sights set on securing an elusive normalization agreement with Saudi Arabia. However, clinching the "crown jewel" of normalization agreements will also require a significant assist from Washington, which will not only have to serve as broker but likely have to offer some skin of its own in the form of military technology that it has been increasingly loath to sell the Gulf regime. What's more, Netanyahu will need to maintain and build on the ties with existing Abraham Accords countries in order to maintain the normalization trend… The US and the UAE may well have been eager to get off on the right foot with the new government, but that goodwill appears to be quickly dissipating as the coalition's most right-wing partners, not Netanyahu, seem more and more to be dictating the tone in the government's policy beyond the Green Line. In light of those developments, a US official and a Middle Eastern diplomat told The Times of Israel Wednesday that plans to host Netanyahu have been placed on the back burner. The two sources said that the respective governments are waiting to see what unfolds on the ground during the Muslim holy month of Ramadan, which begins in late March, before proceeding with plans to roll out the red carpet for an Israeli prime minister whose government has advanced measures in East Jerusalem and the West Bank that they fear will further inflame tensions with the Palestinians, in addition to being unpalatable for their own domestic audiences.
read more
Israel moves to reverse 2005 Disengagement, starting in West Bank
Israel took its first small step toward the reversal of the 2005 Disengagement, with ministers approving the legislation that would pave the way to rebuild the four northern Samaria settlements destroyed in that year. "History was made today," the Samaria Regional Council enthusiastically stated after the Ministerial Legislative Committee voted on a bill, which although it applies solely to northern Samaria, is seen as symbolic to the overall Gaza pullout in which 21 settlements were evacuated… The matter now moves to a preliminary reading in the Knesset, which will occur this Wednesday. This will be followed by Knesset committee discussions and three more readings in the plenum before the bill could be passed into law. At issue is the ability to rebuild the four destroyed settlements of Homesh, Sa-Nur, Kadim and Ganim, all of which are in an area so isolated that they are outside the parameters of former US president Donald Trump's peace deal, which proposed for Israel to apply sovereignty to 30% of the West Bank. The sites of those former settlements are considered to be in a closed military zone, prohibited to Israeli civilians. The legislation would lift the ban.
read more
Shin Bet Security Chief Warns Ben-Gvir: Your Actions Could Cause a Far-reaching Flareup at a Sensitive Time
Ronen Bar, head of Israel's Shin Bet security service, called National Security Minister Itamar Ben-Gvir in the past few days to warn him that his actions could lead to a "far-reaching flareup at a sensitive time." According to a report in Israel's Channel 13 News, Bar spoken with Ben-Gvir with Prime Minister Benjamin Netanyahu's approval, and told him his actions are "creating a sense of collective punishment on the ground" and stoking tensions in Jerusalem. On Monday, Ben-Gvir ordered to speed up the demolition of homes belonging to Palestinians in East Jerusalem, drawing a harsh rebuke from Israel Police Commissioner Kobi Shabtai. In the aftermath of a Palestinian attack last week that killed three Israelis in Jerusalem, Ben-Gvir publicly called for an "Operation Defensive Shield 2," referencing Israel's operation during the Second Intifada in the West Bank which left hundreds of Palestinians dead.
read more