As I'm sure you're aware, Israel's new ultra right-wing government (led by Prime Minister Benjamin Netanyahu and featuring some of the most extreme figures in Israeli politics in powerful roles) was sworn in just prior to the New Year. Less than two weeks into its term, the new government has taken extremely consequential steps, including announcing a radical judicial reform package that threatens to profoundly undermine Israeli democracy, decreeing sanctions on Palestinians and their leadership that could provoke the collapse of the Palestinian Authority and further destabilize the occupied West Bank, declaring intent to "legalize" the illegal Israeli settlement outpost in Homesh, ordering police to remove Palestinian flags from public spaces, and adopting a softer line on Russia vis-a-vis its brutal war against Ukraine. Encouragingly, tens of thousands of Israelis turned out to protest the new government's anti-democratic moves this weekend.
We will be sure to keep you up-to-date as these developments continue to unfold through our News Digest and via exclusive Hill briefings and analysis from our J Street Policy Center. Of course, if you have any questions, please don't hesitate to get in touch.
As always, you can find our Congressional briefing book, background information on the Israeli-Palestinian conflict, recordings of previous briefings and more at J Street's Congressional Resource Page.
All the best,
Debra
—
Debra Shushan, PhD
Director of Policy, J Street
mobile: (757) 746-0366 | [email protected] | @DrShushan
This week on j street
STATEMENT

PUNITIVE ISRAELI SANCTIONS AGAINST PALESTINIANS ARE DANGEROUS AND WRONG; US SHOULD OPPOSE THEM

Read more →
STATEMENT

J STREET COMMENDS BIDEN ADMINISTRATION'S UNEQUIVOCAL OPPOSITION TO "LEGALIZATION" OF HOMESH AND SIMILAR OUTPOSTS

Read more →
STATEMENT

J STREET ALARMED BY DANGEROUS BEN-GVIR VISIT TO TEMPLE MOUNT/AL-AQSA

Read more →
What we're reading
U.S. stresses need for "independent institutions" as Israel seeks to weaken judiciary
A State Department official stressed the importance of Israel's "independent institutions" for its "thriving democracy" after the country's new government revealed a plan to pass laws that would weaken the Supreme Court… The Biden administration is treating the issue with utmost sensitivity because of its domestic political aspects. But the U.S. also understands the implementation of the plan could have an impact on Israel's democracy and, as a result, on the two country's bilateral relationship… Senior Israeli legal experts and former and current Supreme Court judges see the plan as a way for the government to significantly weaken the country's highest court by harming its independence and effectively rendering it irrelevant… [Justice Minister Yariv] Levin's plan was presented as Prime Minister Benjamin Netanyahu is standing trial for fraud, breach of trust and bribery. He denies any wrongdoing. The Israeli opposition warns that Netanyahu is pushing the new plan as part of his effort to stop the trial.
read more
Thousands March in Tel Aviv in Protest of Netanyahu's Far-right Gov't, Judicial Overhaul
Thousands protested in Tel Aviv on Saturday night in a first major rally against the new government and its far-right policy plans, with two marches taking place in the city. Organizers estimate that 20,000 people participated at the demonstration. One march organized by Standing Together, a grassroots group promoting Jewish and Arab equality and partnership, and the other focused more specifically the threat to the country's justice system… The Association for Civil Rights in Israel's Noa Sattath said in her speech: "Like our fellow human rights organizations around the world, from Hungary to the United States, we too will fight all the time, without fear, because human rights are universal."
read more
Right-wing Israeli minister challenges own government with visit to Temple Mount
Israel's far-right national security minister, Itamar Ben Gvir, visited a sensitive holy site in Jerusalem on Tuesday, despite reported objections by the prime minister and senior security officials. Israeli media said that Benjamin Netanyahu and others warned that a provocative visit to what Jewish Israelis refer to as the Temple Mount in the heart of the Old City could worsen an already escalating conflict with Palestinians and embitter relations with the wider Arab world.. While there were no immediate demonstrations in Jerusalem, the move drew condemnations from nations across the region, including ones with which Israel is hoping to build new ties. Jordan summoned Israel's ambassador in protest, and Netanyahu's first trip to the United Arab Emirates since signing a normalization deal there in 2020 was delayed after Abu Dhabi called for an end to the "serious and provocative violations."… The U.S. Embassy in Israel said Ambassador Tom Nides "has been very clear in conversations with the Israeli government on the issue of preserving the status quo in Jerusalem's holy sites. Actions that prevent that are unacceptable."
read more
Israeli sanctions will lead to Palestinian Authority's collapse, warns PM Shtayyeh
The successful Palestinian initiative in the UN General Assembly was cited by Israel's new hardline government as the reason for a series of sanctions against the PA, including seizing NIS 139 million ($39 million) in tax revenues Israel collects on behalf of the PA and channeling them to Israeli victims of Palestinian terrorism instead. Netanyahu has long boasted of his efforts to isolate the PA. While Shtayyeh has made repeated similar remarks in the past about the imminent collapse of the PA, this time the Israeli government is composed of many lawmakers who openly support the PA's closure, viewing it as a terror-inciting body. They do not share the view of the defense establishment, which stresses the importance of Israel's security cooperation with the PA to prevent more extreme elements from gaining power, and has pushed successive governments to prevent its dissolution.
read more
U.S. Sets Red Line on Illegal West Bank Outpost, Setting Up Clash With Netanyahu
"The Homesh outpost in the West Bank is illegal. It is illegal even under Israeli law. Our call to refrain from unilateral steps certainly includes any decision to create a new settlement, to legalize outposts or allowing building of any kind deep in the West Bank, adjacent to Palestinian communities or on private Palestinian land," State Department spokesperson Ned Price said. The matter of outpost legalization has been one area where the Biden administration has explicitly indicated would be a matter on which they would forcibly push back against Israel, alongside matters that would harm the two-state solution like the Temple Mount status quo, settlement expansion and annexation. Israel's new finance minister, far-right leader Bezalel Smotrich, has stated that the government should cancel the Disengagement Law and allow permanent Israeli civilian presence at Homesh. This was also included in his party's coalition agreement with Netanyahu's Likud party.
read more
Israel's Ben Gvir orders police to take down Palestinian flags, testing limits of his authority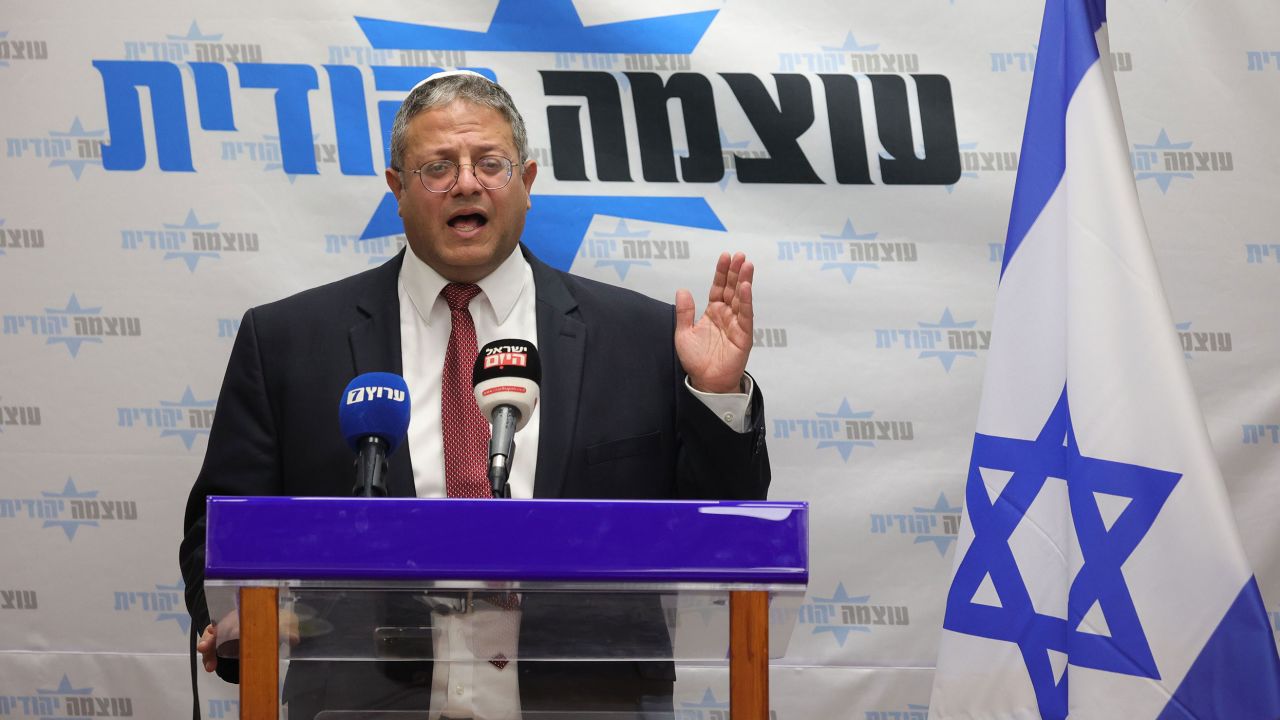 Itamar Ben Gvir, Israel's new hard-right national security minister, has ordered police to remove any Palestinian flag flown in public, arguing that displaying it shows "identification with terrorism." Ben Gvir issued the order after the Palestinian flag was raised in northern Israel on Thursday by Karim Younis, who had just been released from prison after serving 40 years for murdering an Israeli. Experts say Ben Gvir's ban is unlikely to stand up to legal scrutiny. "It's not illegal," to raise the Palestinian flag, Israeli lawyer Avigdor Feldman told CNN on Monday, suggesting that there was a route to getting the order overturned: "Someone has to go to court to get a statement that it's an illegal order." For Dianna Buttu, a Palestinian lawyer based in Haifa, the flag "ban" is not the point… "They do this [issue a flag ban] to give police a free hand to do whatever it is they want," she told CNN. "They know it's not legal to do this type of stuff – but the point is to create enough repressive measures so people stay silent."
read more
New Israeli foreign minister faces criticism after remarks on Russia, Lavrov call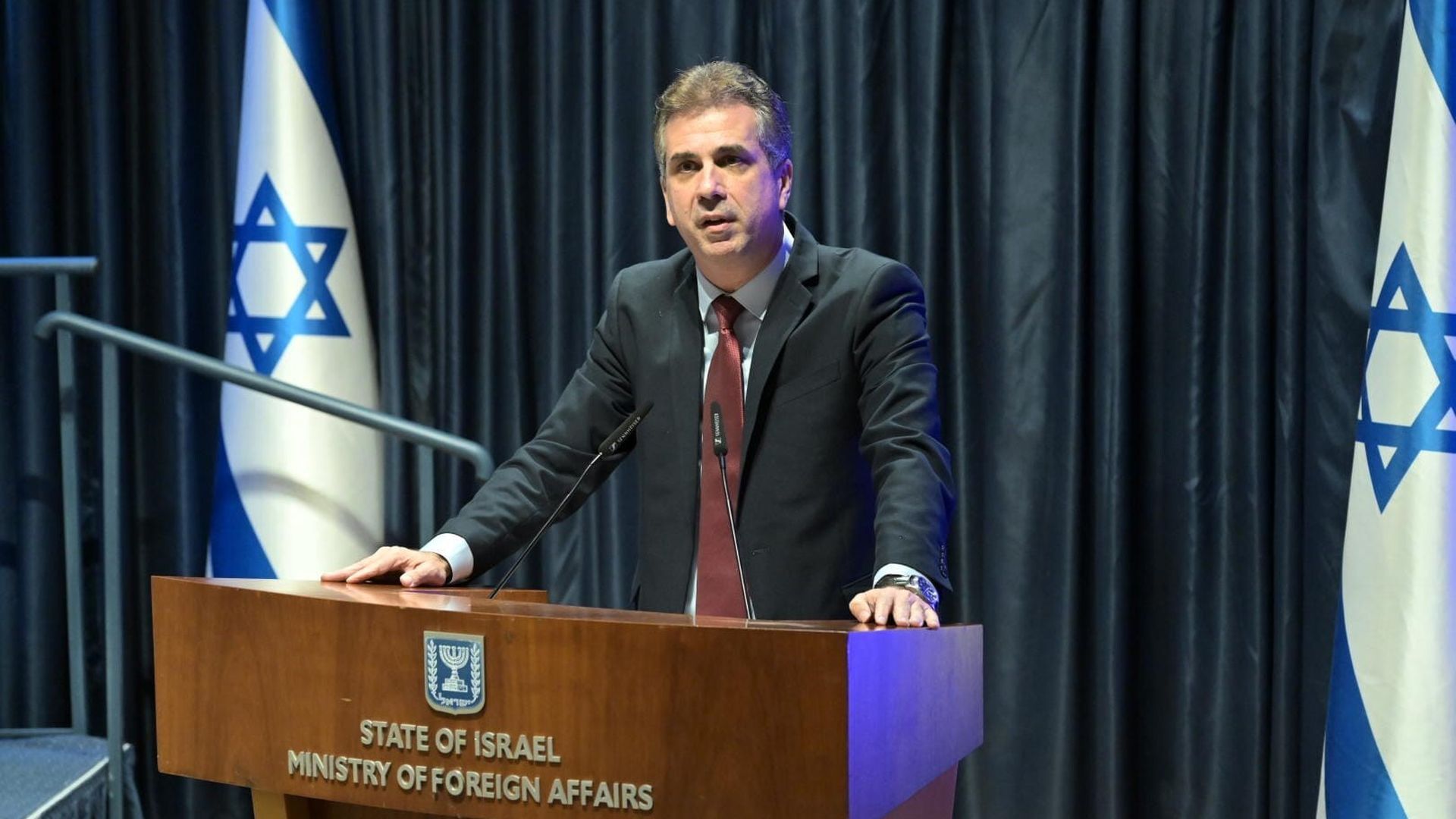 [Israeli Foreign Minister Eli] Cohen's remarks hinting that Israel would no longer condemn Russia publicly for the war in Ukraine and his call with Russian Foreign Minister Sergei Lavrov — some of his first moves since taking office last week — raised questions about a possible policy shift toward Russia by the incoming Israeli government… Cohen's comments this week immediately drew a lot of criticism on social media, including from one of Israel's staunchest allies in Congress, Sen. Lindsey Graham (R-S.C.). "The idea that Israel should speak less about Russia's criminal invasion of Ukraine is a bit unnerving," Graham tweeted on Monday. "To stay quiet about Russia's criminal behavior will not age well," he added.
read more