I'm writing to share J Street's statements and news updates, including our unequivocal condemnation of Iran's supplying of drones to Russia and Russia's use of the drones to commit war crimes in Ukraine. J Street is calling for urgent action, including sanctions as appropriate, to address this and other instances of Iran's dangerous supplying of weapons to Russia. You'll also find our statement on former President Donald Trump's new antisemitic social media rant, in which he warned Jewish Americans to "get their act together….before it is too late." The level of danger and hostility toward our community is increasing – and the silence from some corners is deafening as leading Republican officials and candidates have refused to challenge or even address Trump's comments.
The situation on the ground in the occupied West Bank, including East Jerusalem, continues to deteriorate and spiral further out of control. Violent rampages by Israeli settlers against Palestinians are becoming more frequent, with one Israeli soldier arrested for joining one such spree, in which settlers also pepper sprayed Israeli soldiers. In another instance that occurred yesterday, an Israeli military unit violated international law by forcing Palestinians to leave their village – located in "Area A" which is under full Palestinian Authority control, per the Oslo Accords – so that it could hold a conference in which Israeli settlers took part. (Check out J Street's Twitter thread on these events here.) Meanwhile, Israel today began applying new guidelines that restrict entry of foreigners to the West Bank, putting Israel further out of compliance with the requirements of the Visa Waiver Program.
As always, you can find our Congressional briefing book, background information on the Israeli-Palestinian conflict, recordings of previous briefings and more at J Street's Congressional Resource Page.
Let me know if you have any questions or would like further information.
All the best,
Debra
—
Debra Shushan, PhD
Director of Policy, J Street
mobile: (757) 746-0366 | [email protected] | @DrShushan
This week on j street
STATEMENT

J STREET CALLS FOR URGENT ACTION AGAINST IRAN'S SUPPLY OF DRONES TO RUSSIA

Read more →
STATEMENT

J STREET STANDS WITH VAST MAJORITY OF JEWISH AMERICANS AGAINST TRUMP'S HATEFUL THREATS

Read more →
What we're reading
Trump attacks American Jews, posting they must 'get their act together' on Israel
American Jews have long been accused of holding secret loyalty to Israel rather than the United States, and Trump's post leaned on that antisemitic trope, suggesting that by virtue of their religion, American Jews should show more appreciation to Israel. Trump also complained in the post that "no president" had done more for Israel than he had but that Christian evangelicals are "far more appreciative of this than the people of the Jewish faith, especially those living in the U.S."
read more
Settlers pepper-spray IDF troops near Nablus, drawing political furor; suspect held
Israeli settlers attacked Israeli troops who were attempting to break up a violent demonstration they were holding near Nablus amid high tensions in the West Bank, the military said early Thursday. The incident caused outrage across the political spectrum, with Prime Minister Yair Lapid labeling the attackers "dangerous criminals" and opposition leader Benjamin Netanyahu saying he "fully condemns the violence" and calling for the rioters to be brought to justice. In a statement, the military called the settlers involved in violence "criminal" and called for them to face justice, but avoided much of the harsher language usually used to refer to Palestinian stone-throwers.
read more
West Bank visitors ordered to register romances as Israel brings in strict rules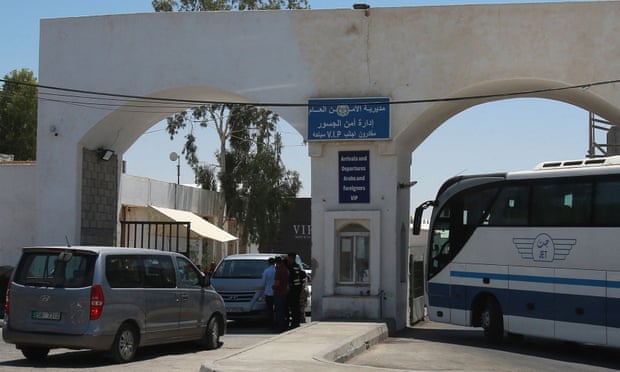 Israel has implemented strict rules limiting the ability of foreigners to enter and stay in the occupied West Bank despite international criticism of the measures… A 90-page ordinance replacing the previous four-page document came into effect on Thursday for a two-year pilot period. It is expected to stifle the Palestinian economy and academia and the work of aid agencies, and create complications for hundreds of thousands of Palestinian families with dual nationality, who are already struggling to navigate a convoluted permit system… "Under international law, the Israeli military is only allowed to work for the interests of the occupied population, or its own security needs. These restrictions obviously advance neither."
read more
Australia pulls recognition of Jerusalem as capital, angering Israel
Israel reacted with fury Tuesday to Australia's announcement that it will no longer recognize West Jerusalem as the capital of Israel, reversing a controversial diplomatic move made four years ago by the previous conservative government. Israel's Foreign Ministry summoned the Australian ambassador Tuesday to explain the policy shift, which was announced after two days of contradictory messages on the issue from Canberra. Only hours after officials denied that the change was imminent, Foreign Minister Penny Wong confirmed that Australia would not move its embassy to Jerusalem until Israelis and Palestinians came to a permanent agreement on the disputed capital.
read more
Israeli ultranationalist Ben-Gvir may become election kingmaker
If Benjamin Netanyahu regains the premiership after Israel's election next month, it may be thanks to an ultranationalist firebrand whose romp into the mainstream has jolted voters otherwise exhausted by years of political deadlock…That would be a big step up for a man convicted in 2007 of racist incitement and support for a group on both the Israeli and U.S. terror blacklists. It would also attest to the success of a bid to cast himself as a friendlier face of the far-right.
read more
Iran Sends Drone Trainers to Crimea to Aid Russian Military
In recent days, the Iranian drones have become an important weapon for Russia, which has used them as part of the broad strikes across Ukraine against electrical infrastructure and other civilian targets. The deployment of the Iranian trainers appears to coincide with the stepped-up use of the drones in Ukraine and indicates a deeper involvement by Iran in the war. "Sending drones and trainers to Ukraine has enmeshed Iran deeply into the war on the Russian side and involved Tehran directly in operations that have killed and injured civilians," said Mick Mulroy, a former senior Pentagon official and retired C.I.A. officer.
read more